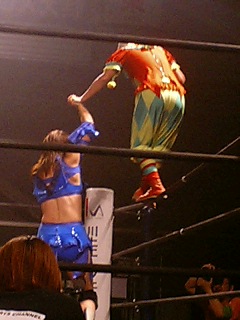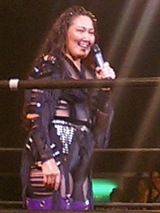 The biggest news by far this week was Devil Masami announcing her retirement from pro-wrestling at MARVELOUS NIGHT MIRACLE GAME, the Chigusa Nagayo produced show in honor of Masami's 30th year in the business. At this time, I'm not sure if this retirment takes place immediately or not. I do know that Masami is booked in a tag match at the next OZ Academy show which is subtitled "Devil Masami Retirement Memorial Match: A Purple Rose in Eternity", so that could be it or we might have a retirement road of matches.
As far as the show, few surprises in the results. In the "Children of GAEA" match, Toshie Uematsu got perhaps the surprise pinfall, cheating to beat her usual partner Ran Yu-Yu. Devil Masami did the job in the main event, putting over the youngster Aja Kong, who used the Uraken ;)
Fuuka had her Fuuka Matsuri (festival), which got a decent amount of press attention and a good crowd at Shin-Kiba 1st Ring. Io Shirai pinned sister Mio with a Moonsault Press, the "Fuuka Kidd" beat Bolshoi kid in her "debut", and the team of Fuuka and Nanae Takahashi defeated AKINO and Shu Shibutani in the main event of everchanging teams. Fuuka used the "F-Crash" on Shu, who's off to Mexico soon.
Some of these girls stayed at Shin-Kiba to work the evening show for WAVE. Kyoko Kimura put GAMI to sleep in the opener, Shu pinned Cherry in her final match before her excursion to Mexico, and Hiroyo Matsumoto defeated Yumi Ohka in the main event. WAVE is off for a few weeks, so we'll see what GAMI has in store when they return on October 16.
In minor results throughout the week, Cherry beat Hiroyo Matsumoto at a UNION show, Nanae and Hikaru beat Natsuki/Saki (as usual) at a ZERO1-MAX show, Kyoko Kimura lost to a guy at WMF, Apple Miyuki and Yuu Yamagata lost again for K-DOJO, and the results of the "secret" matches at NEO's dojo show are still secret to me.
UNION Septemeber 26, 2007
Shin-Kiba 1st Ring
3. Cherry defeated Hiroyo Matsumoto
(9:43)
with the Cherry-ton Bomb.
ZERO1-MAX "BRAND-NEW SENSATION WORLD 1JR.2007" September 28, 2007 (Samurai! TV)
Fukushima Aizu Apio Space
1,400 Fans
2.
Pro-Wrestling SUN Offer Match:
Nanae Takahashi/Hikaru defeated Saki Maemura/Natsuki*Taiyo
(16:24)
with a Backdrop Suplex by Takahashi on Maemura.
WMF September 29, 2007
Shin-Kiba 1st Ring
200 Fans
4.
Hard Man! vs. Hard Woman!:
Daisaku Shimoda defeated Kyoko Kimura
(9:16)
with a Backdrop Suplex.
K-DOJO "CLUB-K 3000" September 30, 2007
Chiba Blue Field
100 Fans
1. PSYCHO defeated Apple Miyuki
(7:32)
with a Collier Shot.
3. Yuji Hino defeated Yuu Yamagata
(1:03)
with a Powerbomb.
NEO September 30, 2007
NEO Yokohama Exercise Hall
"Secret matches"
WAVE "RIDE THE WAVE" September 30, 2007
Shin-Kiba 1st Ring
169 Fans
1.
Opening WAVE (Punishment Rules):
Kyoko Kimura/Manabu Hara defeated GAMI/Daisuke Ikeda
(14:53)
when Kimura used a Sleeper Hold on GAMI.
2.
Diva WAVE:
Michiko Ohmukai defeated Francoise*
(7:00)
with a KAKATO Drop.
3.
Road to ACE!?~Comical WAVE:
Mariko Yoshida defeated Bullfight Sora
(9:44)
with a Schoolboy.
4.
Shibutani's Farewell to Mexico:
Shu Shibutani/Misaki Ohata defeated Cherry/Arisa Nakajima
(12:23)
when Shibutani used a Small Package Hold on Cherry.
5.
Road to Resurrection:
Hiroyo Matsumoto defeated Yumi Ohka
(14:05)
with a Back Elbow.
FUUKA MATSURI 1 "Fuuka's Big Adventure" September 30, 2007
Shin-Kiba 1st Ring
316 Fans
1.
First Impression-Kana Return Road:
Atsuko Emoto defeated Kana
(8:45)
with the Momo Clutch.
2.
New Generation Battle:
Arisa Nakajima/Io Shirai defeated Yuri Urai/Mio Shirai
(11:42)
when Io pinned Mio with a Moonsault Press.
3.
Fuuka Martial Arts Special Colloboration:
Fuuka vs Yuka Kobayashi (exhibition)
4.
Fuuka Kids Presents Fuuka Kidd Debut Match-"Masked Idol":
Fuuka Kidd defeated Bolshoi Kid
(6:44)
with a Backslide.
5.
Main the Fuuka (30 minute time limit tag match-Switch partners every 5 minutes):
Fuuka/Nanae Takahashi defeated AKINO/Shu Shibutani
(19:10)
when Fuuka used the F-Crash on Shibutani.
MARVELOUS NIGHT MIRACLE GAME September 30, 2007
Nagayo Produce
Devil Masami 30th Anniversary
Tokyo Differ Ariake
1000 Fans

1.
JWP Offer Match:
Azumi Hyuga defeated Bolshoi Kid
(9:42)
with a Gannosuke Clutch.
2.
Mixed Tag Match:
Ayako Hamada/El Blazer defeated KAORU/LTP
(11:54)
when El Blazer used the Lightning Strike on LTP.
3.
Sendai Girls Offer Match:
Tyrannosaurus Okuda/Mizhaaya defeated DASH CHISAKO/Sendai Sachiko
(12:56)
when Okuda used the Diving Knee Attack on CHISAKO.
4.
Children of GAEA Match:
Meiko Satomura/Toshie Uematsu/Chikayo Nagashima defeated Sonoko Kato/Ran Yu-Yu/Carlos Amano
(18:47)
when Uematsu used the Solarina to pin Yu-Yu.
5.
Match of WWWA Champions:
Aja Kong/Yumiko Hotta/Kaoru Ito defeated Devil Masami/Dynamite Kansai/Manami Toyota
(16:46)
when Kong used the Uraken on Masami.