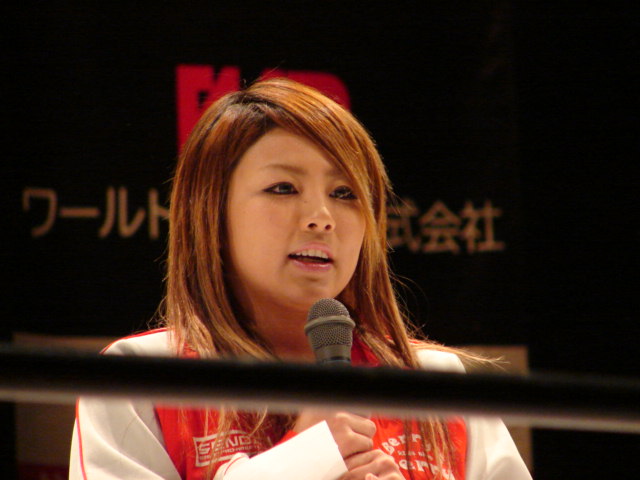 The major news from joshi this weekend came from JWP & Sendai Girls.
JWP were in Osaka. In the opener, Pinkie Mayuka (w/Arisa Nakajima) scored the biggest pinfall of her short career, as she pinned the current JWP Jr./POP champion, Hiroyo Matsumoto (w/Misaki Ohata). Pinkie made it known that if Hiroyo is successful in defending the junior belts at next weekend's Ibuki show against Sendai Sachiko that she intends to bring it back home. Tojuki Leon beat Kaori Yoneyama in a match that seemed to signal the end of their team, while Kayoko Haruyama and Pure Heart triumphed in a six lady tag, beating Sachie Abe from the Hotta Gundam faction.
However, Yumiko Hotta & Keito took the JWP/Daily Sports tag team titles from Toshie Uemastu & Ran Yu-Yu. Keito did the honors with a modified shubain on Toshie. Tojuki Leon and Arisa Nakajima seem to be forming a team and want to get the belts away from Hotta.
The biggest news in Sendai had nothing to do with their one day tournament. The shocker was the announcement that Tyrannosaurus Okuda, who had been the most heavily pushed youngster in the company but has been injured since last summer, is leaving the promotion. However, it is not a retirement, as she intends to resume her career later this year as a free-lancer. I don't have any further details as to why Sendai's golden child is out the door. I hope this is some sort of angle, as I don't think free-lancing will do her career any favors, as the junior workers tend to need the support of a promotion and an influential mentor to advance beyond jobbing.
In the actual tournament, DASH Chisako and Hiren went to a 20 minute draw. Stipulations stated the lighter wrestler would win, and that ended up being Hiren. Sendai Sachiko beat rookie Yukari Ishino. Hiren lost to Ryo Mizunami in one semi, and Sachiko lost to boss Meiko Satomura in the other. Meiko ended up winning, as expected. Also, the Jaja Uma tournament for young wrestlers will have its second edition, to be run at Sendai shows in February, March, and April. No list of competitors is out yet.
In one other minor bit of news, Maya Sakai, who competed with K-DOJO and JD Star from 2001-2003, is returing to the business and will work with K-DOJO.
WAVE January 21, 2009
Shin-Kiba 1st Ring
162 Fans
1. Tojuki Leon defeated Kayo Fujimori (9:34) with a Spear.
2. Shuu Shibutani & Ayumi Kurihara defeated Moeka Haruhi & Tomoka Nakagawa (13:17) when Shibutani used a Northern Lights Suplex Hold on Haruhi.
3. Apple Miyuki defeated Bullfight Sora (1:25) with La Magistral
3a. Restart: Apple Miyuki defeated Bullfight Sora (1:20) with the European Clutch.
3b. Restart: Apple Miyuki defeated Bullfight Sora (2:07) with an Inside Cradle.
4. Yumi Ohka & Mima Shimoda defeated GAMI & Toshie Uematsu (18:37) when Ohka used a Tiger Suplex Hold on GAMI.
ZERO1 January 23, 2009
Shinjuku FACE
2. Chick Fights SUN ~ Final Countdown for SMILE Part 2: Hikaru & Mio Shirai defeated Saki Maemura & Io Shirai (14:01) when Hikaru used the Lanakila-H on Io.
K-DOJO "CLUB-K 3000" January 24, 2009
Chiba Blue Field
52 Fans
2. Kunio Toshima & Mr.X defeated Boso Boy Raito & Yuu Yamagata (10:10) when Toshima used a Dropkick on Raito
3. TAKA Michinoku, JOE & YOSHIYA defeated Makoto Oishi, Shiori Asahi & Bambi (17:58) when JOE used the Handsome Lock on Bambi
OSAKA PRO January 24, 2009
Osaka Delfin Arena Dotonbori
170 Fans
4. Command Bolshoi, Arisa Nakajima, & Kuishinbo Kamen vs Miracle Man, Takaku Fuke, & Kanjuro Matsuyama (14:17) when Kamen used a Schoolboy on Matsuyama
JWP "OSAKA PURE FIRE!! 2" January 25, 2009
Osaka Delfin Arena Dotonbori
232 Fans
1. Arisa Nakajima & Pinkie Mayuka defeated Hiroyo Matsumoto & Misaki Ohata (11:10) when Mayuka used a Face Kick on Matsumoto.
2. KAZUKI defeated Ranmaru (7:43) with a Reverse Cross Armbreaker.
3. Tojuki Leon defeated Kaori Yoneyama (16:54) with the Captured Buster.
4. Kayoko Haruyama, Command Bolshoi, & GAMI defeated Azumi Hyuga, Sachie Abe, & Yumi Ohka (17:36) when Haruyama used the Keene Hammer on Abe.
5. JWP/Daily Sports Tag Team Titles: Keito & Yumiko Hotta defeated Ran Yu-Yu & Toshie Uematsu (18:16) when Keito used a Modified Shubain on Uematsu. Yu-Yu & Uematsu fail in the 2nd defense and Keito & Hotta become the 30th JWP champions and 3rd Daily Sports champions.
SENDAI GIRLS January 25, 2009
Sendai Harbor International Business Center "Accelerator"
BEST Tire Cup New Year's 1Day Tournament
450 Fans
1. First Round: DASH Chisako vs Hiren (20:00) went to a time-limit draw. Hiren advances in the tournament on the lighter weight tiebreaker.
2. First Round: Sendai Sachiko defeated Yukari Ishino (7:26) with a German Suplex Hold.
3. Semifinal: Ryo Mizunami defeated Hiren (6:50) with a Diving Guillotine Drop.
4. Semifinal: Meiko Satomura defeated Sendai Sachiko (9:21) with a Death Valley Bomb.
5. Final: Meiko Satomura defeated Ryo Mizunami (12:14) with a Death Valley Bomb.
RIKI SENSYU OFFICE January 25, 2009
Osaka World Hall
3. Sasori defeated Ranmaru (12:20) with the Scorpion Clamp.
ZERO1 January 26, 2009
Miyakonojo City Gymnasium
2. Chick Fights SUN: Hikaru defeated Saki Maemura (12:13) with the Lanakila-H.
West Exit DX Pro "KING OF PARTY 2009" January 26, 2009
Shibuya O-East
5. Natsuki*Taiyo & Kana defeated Jiro Hachimitsu & Kunihiko Mitamega (11:26) when Kana used the Billiken on Hachimitsu.