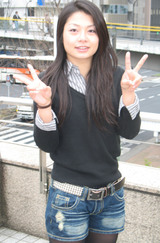 Speaking of retirements, in addition to the already announced ones of Hikaru, Saki Maemura, and Sasori (Dump Matsumoto's bald crony), the big news this week was 27-year old Haruka Matsuo of NEO announcing that her last show will be on May 5th. She started in 2001 as a Jd athtress, then moved on to NEO a few years later and has progressed from strictly a pretty face to a decent wrestler. She even had the honor of ending Yoshiko Tamura's long title reign in 2007, dropping the NEO/NWA Pacific titles last year to Kyoko Inoue. She tried but failed to regain the titles against current holder Nanae Takahashi on 12/31/08. She said that she had originally intended to not wrestle past 25, but stuck around a bit longer and had delayed her retirement when Misae Genki announced hers last year.
In the ring, Revolucion Amandola kept the tag titles, as Kyoko Kimura & Atsuko Emoto beat Yoshiko Tamura & Ayumi Kurihara after the Bay Crash by Emoto on Kurihara. Nanae kept the singles title over Yuki Miyazaki and Tamura will be the next challenger, probably at the MAY HISTORY show on May 5th at Korakuen Hall.
JWP is running a tag tournament for the next challengers for the belts held by Yumiko Hotta and Keito. In the semifinals, Command Bolshoi & Megumi Yabushita beat the WAVE duo of GAMI & Yumi Ohka, as Bolshoi made GAMI submit. They will face perennial tag champs/challengers Ran Yu-Yu & Toshie Uematsu, as they beat Kaori Yoneyama & Sakura Emi. Kayoko Haruyama teamed with Arisa Nakajima and scored a pin on Azumi Hyuga (teaming with Tojuki Leon). This cancelled out an earlier tag match where Hyuga pinned Kayoko and continues the build for the JWP Openweight title match on April 12th.
OZ Academy had a mysterious "Style II" show at Kitasenju Theatre today, but the results are closed and I haven't found them from the usual Japanese blogger sources. It had a TNA-esque gimmick. It started with 8 competitors (Mayumi Ozaki, Carlos Amano, Dynamite Kansai, Chikayo Nagashima, Sonoko Kato, Aja Kong, AKINO, Manami Toyota) randomly drawn into 2 teams of four. The losers of a 8-woman tag match would then be drawn into 2 teams of two for another tag match. Those losers would have a singles match and the ultimate loser would then be subject to a "humiliation match" on April 12th. They seem to be trying to keep the loser a secret until then. It was announced the day before that Chikayo Nagashima had suffered a minor foot injury in training and wouldn't be able to compete and wouldn't be replaced. I don't know if this is legit or part of some angle; I suspect the latter.
K-DOJO "CLUB-K 3000" March 7, 2009
Chiba Blue Field
67 Fans
2. Saburo Inematsu & Bambi defeated Boso Boy Raito & Kaji Yamato (10:22) when Inematsu used the 36 Hammer on Yamato.
3. Kunio Toshima, Mr. X & PSYCHO defeated JOE, HARASHIMA & Yuu Yamagata (12:41) when PSYCHO used the Union High-Angle Neckbreaker on Yamagata.

UNION March 7, 2009
Shin-Kiba 1st Ring
4. Cherry & Masako Takanashi defeated Kana & Chihiro Oikawa (12:28) when Cherry used a Reverse Cross Armbreaker on Oikawa.
NEO "CLIMB OVER" March 8, 2009
Korakuen Hall
1004 Fans
1. Tanny Mouse defeated Aoi Kizuki (5:01) with the European Clutch.
2. Aya Yuki, Hikari Shida, & Tsukasa Fujimoto defeated Sakura Emi, Toshie Uematsu, & Hamuko Hoshi (9:57) when Yuki used a German Suplex Hold on Hoshi.
3. Etsuko Mita defeated Tomoka Nakagawa (6:23) with a Death Valley Bomb.
4. Fuuka & Ray defeated Natsuki*Taiyo & Kana (11:41) when Ray used a Huracanrana on Taiyo.
5. Haruka Matsuo vs Yumi Ohka (15:00) went to a time-limit draw.
6. Kyoko Inoue defeated Hiroyo Matsumoto (16:24) with a Cyclone Clutch.
7. NEO Tag Team Championship: Kyoko Kimura & Atsuko Emoto (c) defeated Yoshiko Tamura & Ayumi Kurihara (22:14) when Emoto used the Bay Crash on Kurihara. Kimura & Emoto are successful in the 2nd defense.
8. NEO/NWA Pacific Championship: Nanae Takahashi (c) defeated Yuki Miyazaki (21:06) with a Lariat. Takahashi is successful in the 2nd defense.
JWP March 8, 2009

Kitasenju Theater 1010

180 Fans
1. Kuragaki Return Match: Sachie Abe & KAZUKI defeated Tsubasa Kuragaki & Pinkie Mayuka (13:04) when KAZUKI used the Manhattan Drop on Mayuka.
2. Keito defeated Chihiro Oikawa (8:00) with a Shining Wizard.
3. Kayoko Haruyama & Arisa Nakajima defeated Azumi Hyuga & Tojuki Leon (16:24) when Haruyama used a Lariat on Hyuga.
4. JWP/Daily Sports Tag Team #1 Contender Tournament Semifinal: Command Bolshoi & Megumi Yabushita defeated GAMI & Yumi Ohka (19:48) when Bolshoi used a Bolshoi-Style Wakigatame on GAMI.
5. JWP/Daily Sports Tag Team #1 Contender Tournament Semifinal: Ran Yu-Yu & Toshie Uematsu defeated Kaori Yoneyama & Sakura Emni (14:43) when Yu-Yu used the European Clutch on Yoneyama.
OZ ACADEMY "OZ STYLE II" March 8, 2009
Kitasenju Theater 1010

Results "Closed"
1. Eight Woman Tag Match (teams chosen by lots): Mayumi Ozaki, Carlos Amano, Dynamite Kansai, Chikayo Nagashima, Sonoko Kato, Aja Kong, AKINO, Manami Toyota
2. Four Woman Tag Match (teams chosen by lots): Losers of Match #1
3. Singles Match (loser will have punishment match on 4/12): Losers of Match #2