A decent number of cards in joshi puroresu this week. Let's start with Emi and the kids in Ice Ribbon. The midweek show saw 12-year old Riho and weatherlady Aika Ando defeat Makoto & Hikari Minami, with Riho pinning Makoto. Also, Miyako Matsumoto failed in her effort to add the DDT Extreme Championship to the ICEx60 and Triangle Ribbon belts she already has, losing to GENTARO. The Saturday show saw a title change, as Miyako lost the ICEx60 Championship to little (OK, she's not really so little anymore) Riho. Riho then challenged Emi Sakura at the Korakuen Hall show in early May. That will be for the title, assuming Emi stays away from the Haagen-Dazs and the KFC
to keep under 60 kilos.
WAVE was in action on Friday and Sunday. Friday was a little trip to Yokohama to challenge the NEO roster (minus Kyoko Inoue and injured Nagisa Nozaki). After Tanny Mouse and Yuki Miyazaki mopped up Moeka Haruhi and Sawako Shimono, and GAMI & Yoshiko Tamura went to a draw, then Yumi Ohka beat Aya Yuki. HIROKA, in from Mexico this month, beat Bullfight Sora. The main event saw Tamura join with the losers against GAMI and the winners, and finally Tamura got to pin GAMI. Sunday's show was at the usual Shin-Kiba 1st Ring. It was Toshie Uematsu's 36th birthday, so she teamed with new partner KAZUKI vs Jaguar Yokota and Cherry in a match with everyone in Uematsu costumes. Toshie even got to win (no, not against Jaggy). Moeka Haruhi and Misaki Ohata retained the TLW junior tag team belts, beating Ryo Mizunami and Kagetsu when Ohata pinned the latter Sendai Girl. Ohka's 31st birthday resulted in a win over fellow ex-JD Star athtress Asami Kawasaki. Then I'm sure there was some cake in teh face.
HIROKA, along with fellow CMLL luchadoras Princess Sugein and Sarah "Dark Angel" Stock, ran a special lucha show on Saturday. FUKA Kid (i.e. Kaori Yoneyama under a mask) "retired", losing to Bolshoi Kid. Passion Seven (Nanae) and Passion Nakki (Natsuki*Taiyo) beat Kyoko Kimura and Atsuko Emoto, with Natsuki & Emoto trading falls before the Passion Red duo beat Revolucion Amandola when Kimura was disqualified for ripping Nanae's mask off. HIROKA teamed with Tomoka Nakagawa and beat Uematsu and Leon, Toshie tasting HIROKA's Muerte de Christ. Dark Angel beat Princess Sugei by 2 falls to 1, and then Sugei won the battle royale, with Nakagawa as the final opponent.
JWP was in action on Sunday at Tokyo Cinema Club, with the final non-dojo show before MANIA-X at Korakuen Hall on the 18th. HIROKA was here as well, and made KAZUKI taste the Muerte de Christ. The OCC League final ended up as expected, with Nanae Takahashi using the Nanaracka to beat Tsubasa Kuragaki and earn the title shot against Kayoko Haruyama.
Finally, OZ Academy was at Shinjuku FACE. The Carlos Amano-Manami Toyota five match series ended with everything square. Amano's victory today with the Carlos Ghosn means both have 2 victories, 2 losses, and 1 draw. I expect a final deciding match (probably for Carlos' OZ Academy title), to happen at some point, maybe at the May show in Sapporo or the next time they run Korakuen Hall (which is presumably in August for the Plum Mariko Memorial Show). The main event saw Aja Kong, KAORU, and Tomoka Nakagawa triumph over AKINO, Ran Yu-Yu, and Hiroyo Matsumoto, with Aja using the Uraken on AKINO. Not sure yet whether this is the end for the Jungle Jack 21 faction. Oh, and the May 16th show at Shinjuku FACE will be the 15h anniversary for Chikayo Nagashima, Sonoko Kato, Carlos Amano, and Ran Yu-Yu.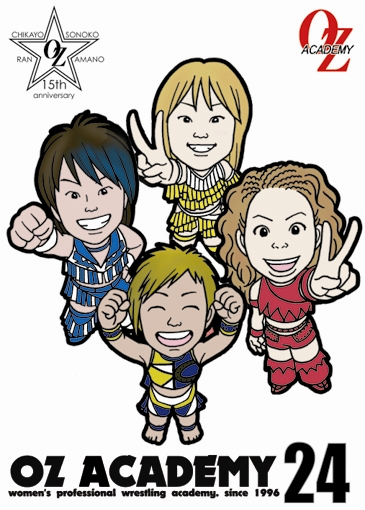 ICE RIBBON March 31, 2010
Warabi City Isami Wrestle Budokan
97 Fans
1. Hikaru Shida defeated Chii Tomiya (5:31) with the Three Count.
2. Riho & Aika Ando defeated Hikari Minami & Makoto (12:04) when Riho pinned Makoto.
3. Nanae Takahashi defeated Tsukasa Fujimoto (7:52) with the Refrigerator Bomb.
4. DDT Extreme Championship: GENTARO (c) defeated Miyako Matsumoto (14:54) with a Miya Here Clutch Cutback. GENTARO is successful in the 2nd defense.
WAVE April 2, 2010
Yokohama Nigiwaiza
111 Fans
1. Tanny Mouse defeated Moeka Haruhi (8:12) with the European Clutch.
2. Yuki Miyazaki defeated Sawako Shimono (5:16) with the Young Lion Hold.
3. GAMI vs Yoshiko Tamura (10:00) went to a time-limit draw.
4. Yumi Ohka defeated Aya Yuki (7:22) with a Neck-Hanging Bomb.
5. HIROKA defeated Bullfight Sora (12:22) with a Schoolboy.
3. Winners vs Losers Tag Match: Yoshiko Tamura, Aya Yuki, Moeka Haruhi, & Sawako Shimono defeated GAMI, Yumi Ohka, Tanny Mouse, & Yuki Miyazaki (17:08) when Tamura used the Parka on GAMI.
ICE RIBBON April 3, 2010
Warabi City Isami Wrestle Budokan
66 Fans
1. Exhibition: Tsukushi defeated ? (3:00) by 1 fall to 0.
2. Kazumi Shimouma & Hikari Minami defeated Hikaru Shida & Chii Tomiya (8:38) when Shimouma used the Half Slam Buster on Shida.
3. Handicap Match: Ribbon Takanashi vs Emi Sakura & Makoto (10:00) went to a time-limit draw.
4. ICEx60 Championship: Riho defeated Miyako Matsumoto (8:32). Matsumoto fails in the 2nd defense and Riho becomes the 7th champion.
ESTRELLA LUCHA 2010 April 3, 2010
Shin-Kiba 1st Ring
1. FUKA Kid Final: Bolshoi Kid defeated Fuka Kid (6:51) with the POK Hold.
2. Passion Seven & Passion Nakki defeated Kyoko Kimura & Atsuko Emoto (17:17) by 2 falls to 1. Nakki defeated Emoto (4:03) with the Peach*Latch. Emoto defeated Nakki (12:47) with a Knee Kick. Seven defeated Kimura (17:17) when Kimura was DQd for ripping Seven's mask off.
3. HIROKA & Tomoka Nakagawa defeated Toshie Uematsu & Leon (13:55) when HIROKA used the Muerte de Christ on Uematsu.
4. Best Two of Three Falls: Dark Angel defeated Princess Sugei (9:45) by 2 falls to 1. Sugei defeated Angel (4:09) with the Kangaroo. Angel defeated Sugei (6:50) with a Tiger Driver. Angel defeated Sugei (9:45) with the Reina.
5. Lucha Battle Royale: Princess Sugei defeated Tomoka Nakagawa (10:39) with the Land of Happiness Hold. Others, in order of elimination: HIROKA, Bolshoi Kid, Leon, Passion Seven, Toshie Uematsu, Passion Nakki, Kyoko Kimura & Atsuko Emoto, Dark Angel.
OZ ACADEMY April 4, 2010
Shinjuku FACE
1. Aya Yuki defeated Nao Komatsu (7:45) with the Kamikaze.
2. Chikayo Nagashima defeated Ayumi Kurihara (13:12) with a Fisherman's Buster.
3. Mayumi Ozaki & Takako Inoue defeated Dynamite Kansai & Sonoko Kato (20:11) when Ozaki used the Ozakick on Kato.
4. Single Series, Match #5: Carlos Amano [2] defeated Manami Toyota [2] (10:45) with the Carlos Ghosn.
5. Aja Kong, KAORU, & Tomoka Nakagawa defeated AKINO, Ran Yu-Yu, & Hiroyo Matsumoto (20:40) when Aja used a Uraken on AKINO.
JWP April 4, 2010
Tokyo Cinema Club
182 Fans
1. Yumi Ohka defeated Senri Kuroki (10:01) with the Neck Hanging Bomb.
2. Command Bolshoi & Megumi Yabushita defeated Misaki Ohata & Hanako Kobayashi (14:31) when Bolshoi used the Sensei Hold II on Kobayashi.
3. Kaori Yoneyama & Keito defeated Sachie Abe & Leon (10:43) when Yoneyama defeated Abe with a Modified La Magistral.
4. Kayoko Haruyama & HIROKA defeated KAZUKI & Toshie Uematsu (15:09) when HIROKA used the Muerte de Christ on KAZUKI.
5. JWP OCC League Final: Nanae Takahashi defeated Tsubasa Kuragaki (20:26) with the Nanaracka.
WAVE April 4, 2010
Tokyo Cinema Club
151 Fans
1. Bullfight Sora & Sakura Hirota defeated Mio Shirai & Io Shirai when Hirota pinned Io after a Mistaken Kick from Mio.
2. GAMI vs Leon (15:00) went to a time-limit draw.
2a. Restart: Leon defeated GAMI (1:27) with the Captured Buster.
3. Uematsu 36th Birthday Match: Toshie Uematsu & KAZUKI defeated Jaguar Yokota & Cherry (14:02) when Uematsu used the Solarina on Cherry.
4. TLW Young Women's Tag Team Championship: Moeka Haruhi & Misaki Ohata defeated Ryo Mizunami & Kagetsu (18:46) when Ohata used the Flower-Maru Bang on Kagetsu. Haruhi & Ohata are successful in the 1st defense.
5. Ohka 31st Birthday Match: Yumi Ohka defeated Asami Kawasaki (14:03) with the Neck Hanging Bomb.