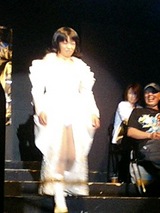 The big news in joshi was a title change at NEO's "BEAT UP 07" event at Korakuen Hall on Monday the 17th. The undercard saw Aya Yuki and Makoto score rare victories, Misae Genki and Kaoru Ito go to a short time-limit draw, the real NEO Machine Gunz saved their "intellectual property" from two imposter teams, and Ayako Hamada making Sakura Emi the latest victim of the AP Cross. I don't think a lot of joshi fans really thought NEO President Koda was going to pull the trigger and put the NEO/NWA Pacific belts on Haruka, even though she's called "future ace". But it did happen, although some of the Japanese bloggers at the show criticized the match as not being worthy of a big title switch. I believe that NEO was unwilling to give the "rub" of dethroning Tamura after 2 years and 15-ish title defenses to an outsider, and Matsuo is the member of the NEO roster that makes the most sense to give the big push too. Everyone else is either out (Kyoko Inoue), too old and beat-up (Etsuko Mita), credible but would gain little from recapturing the title (Genki), a joke (Tanny), needs to be separated from the joke (Miyazaki), or way too young and green (Nozaki/Aya Yuki). It will be interesting to see if NEO plans to build Matsuo as the ace, or if she quickly drops the belt back to Tamura or to someone like Ayako Hamada or Azumi Hyuga.
The other major event, also on Monday, was the Oz Academy/Osaka Pro mixed tag tournament, held over an afternoon and evening show at Shinjuku FACE. The afternoon show featured the quarterfinals. My predictions were poor. I thought AKINO, Aja, and Chikayo would both go far, but their teams were all eliminated in the first round by Okonomida Kansai!, Command Bolshoi, and Sonoko Kato, respectively. Mayumi Ozaki's team eliminated Carlos Amano's team, and the joke was that Carlos had to dress up as "Cutie Reiko". I guess Carlos doesn't know the Cutie Special, but Ozaki remembers the Tequila Sunrise and gets the win. The four losing ladies were supposed to meet in a tag match, but it turned into a four-way individual match. "Cutie" won this time, pinning Aja who was probably laughing too hard to defend herself.
The evening session featured the semifinals, the final, and several matches with the Osaka Pro guys. Bolshoi Kid & Kuishinbo Kamen met Kansai and Takoyakida in the final. Takoyakida pinned the girl clown to win the tourney.
Other action included a JWP show at the Tokyo Cinema Club, with Kuragaki and Haruyama beating WANTED (Abe & KAZUKI) in the main event, an OZ Academy offer match at a Big Japan show (Oz and Kansai beat Aja and Carlos, and I think this match might have been the reason for Amano's costume change), Apple Miyuki losing as usual at a K-DOJO show, and Toshie Uematsu's indy guy partner getting pinned by Yuri Urai's indy guy partner at Guts World. Oh, and 58 people showed up to watch WAVE. Wait, someone was late, it was 59. I shouldn't poke fun, but the Tuesday night shows are not drawing well. AKINO and Tojuki Leon beat KAORU and Shu Shibutani. Shu wants to face two masked wrestlers next week before going to Mexico. It'll probably be noki-A. Yumi Ohka lost again in the main event, as Uematsu got her in a Crab Hold in 9 minutes.
JWP "FLASH POINT" September 16, 2007 (afternoon)
Tokyo Cinema Club
192 Fans
1. Keito/Arisa Nakajima defeated Toshie Uematsu/Aska Ohki
(9:38)
when Nakajima pinned Ohki with the Cutie Special.
2. Command Bolshoi defeated Aoi Kizuki
(10:47)
with a Sensei Hold.
3. Ran Yu-Yu defeated Tojuki Leon
(17:45)
with an Elbow Smash.
4. Azumi Hyuga/Kaori Yoneyama defeated Nanae Takahashi/Saki Maemura
(22:54)
when Yoneyama pinned Maemura with a Shiranui.
5. Tsubasa Kuragaki/Kayoko Haruyama defeated Sachie Abe/KAZUKI
(17:35)
when Haruyama defeated Abe with the Keene Hammer.
BIG JAPAN September 16, 2007
Hatagaya Elementary School
3.
OZ Academy Offer Match:
Mayumi Ozaki/Dynamite Kansai defeated Aja Kong/Carlos Amano
(9:23)
when Kansai beat Amano.
NEO "BEAT UP 2007" September 17, 2007 (Samurai! TV)
Tokyo Korakuen Hall
791 Fans
1. Aya Yuki/Atsuko Emoto defeated Mariko Yoshida/Hiroyo Matsumoto
(11:35)
when Yuki used a Kamikaze attack on Matsumoto.
2. Etsuko Mita/Miki Ishii/Makoto defeated Nagisa Nozaki/Aoi Kizuki/Hikari Manami
(13:17)
when Makoto used a Double Arm Suplex Hold on Manami.
3. Misae Genki vs Kaoru Ito
(15:00)
went to a Time Limit Draw.
4.
3 Way Intellectual Property Scramble Tag Match, Lucha Rules:
NEO Machine Gunz (Tanny Mouse & Yuki Miyazaki) defeated the Kuangtung Machine Gunz (Kaori Yoneyama & Kayoko Haruyama) & Sichuan Machine Gunz (Toshie Uematsu & GAMI)
(13:42)
when Tanny used a Front Rolling Tanny Butt on Sichuan Yuki (GAMI).
5. Ayako Hamada defeated Sakura Emi
(17:52)
with the AP Cross.
6.
NEO/NWA Pacific Championships:
Haruka Matsuo defeated Yoshiko Tamura (c)
(18:33)
with the Mac to become the 18th Champion.
OZ Academy "OZ MYSTERIOUS DANCE" September 17, 2007 (GAORA TV)
Shinjuku FACE
Mixed Tag Team Tournament (with Osaka Pro)
1.
Quarterfinal:
Okonomida Kansai! (Dynamite Kansai)/Takoykida defeated AKINO/Tigers Mask
(9:45)
when Kansai used the Okonmijistral on AKINO.
2.
Quarterfinal:
Mayumi Ozaki/Condor defeated Carlos Amano/Billy Ken Kid
(14:13)
when Ozaki used the Tequila Sunrise on Amano.
3.
Quarterfinal:
Bolshoi Kid/Kuishinbo Kamen defeated Aja Kong/Miracle Man
(8:57)
when Bolshoi used a Hurricanrana on Miracle Man.
4.
Quarterfinal:
Sonoko Kato/Atsushi Kotoge defeated Chikayo Nagashima/Asian Cougar
(13:45)
by Count-Out.
5.
Losers Tag, Teams Draw by Lot:
Aja Kong/Cutie Reiko (Amano) vs Chikayo Nagashima/AKINO was changed into a Four-Way Match:
5a.
Four-Way Match:
Cutie Reiko defeated Aja Kong, Chikayo Nagashima, & AKINO
(7:53)
by pinning Kong.
OSAKA PRO "OSAKA PRO TOKYO STORY #6" September 17, 2007 (GAORA TV)
Shinjuku FACE
Mixed Tag Team Tournament (with OZ Academy)
512 fANS
2.
Semifinal:
Kuishinbo Kamen & Bolshoi Kid defeated Atsushi Kotoge & Sonoko Kato
(8:04)
with a Small Package Hold by Kamen on Kotoge.
3.
Semifinal:
Takoyakida & Okonomida Kansai! (Dynamite Kansai) defeated Condor & Mayumi Ozaki
(9:05)
with the Splash Mountain by Kansai on Ozaki.
5.
Final:
Takoyakida & Okonomida Kansai! defeated Kuishinbo Kamen & Bolshoi Kid
(7:23)
when Takoyakida pinned Bolshoi.
K-DOJO "R-60" September 17, 2007
Chiba Blue Field
147 Fans
2. Daigoro Kashiwa defeated Apple Miyuki
(7:30)
with the Mapputatsu.
GUTS WORLD "Vol. 21" September 17, 2007
Itabashi Green Hall
178 Fans
DAISUKE/Yuri Urai defeated SUZKI/Toshie Uematsu
(11:26)
when DAISUKE used a Dragon Suplex Hold on SUZKI.
WAVE September 18, 2007
Shin-Kiba 1st Ring
59 Fans

1.
Opening Wave (3-Way Match):
GAMI defeated Ran Yu-Yu & Kyoko Kimura
(13:03)
by rolling up Kimura.
2.
Comical Wave:
Bullfight Sora defeated Lingerie Muto
(8:51)
with a Shining Wizard.
3.
Lucha Wave:
AKINO/Tojuki Leon defeated KAORU/Shu Shibutani
(18:07)
when Leon used the Leon Stone on Shibutani.
4.
Road to Resurrection:
Toshie Uematsu defeated Yumi Ohka
(9:35)
with a Crab Hold.