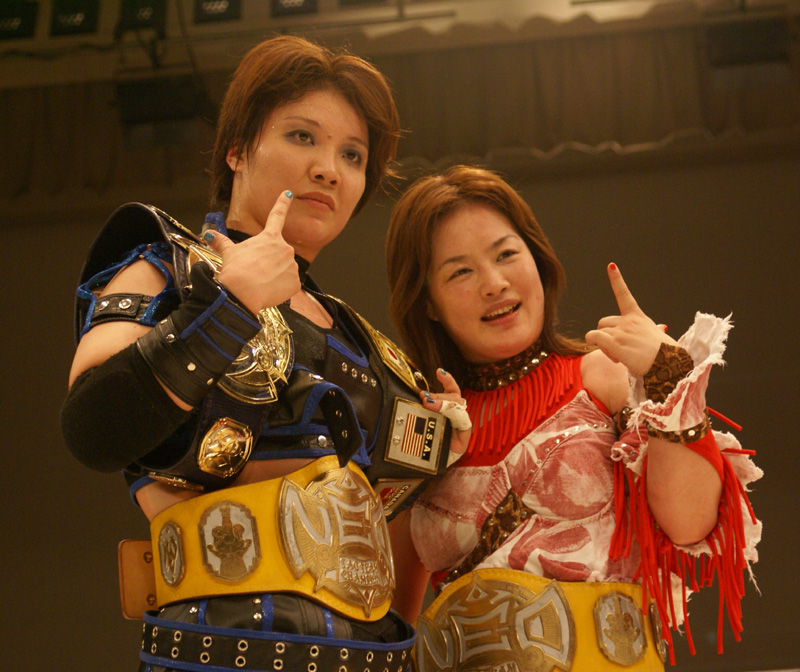 We've got quite a bit of action coming up over the next week. Monday is a holiday in Japan. I've already talked about the NEO "BEAT UP 2007" show in Korakuen Hall. NEO's feud with the Ito Dojo will feature in the Genki vs Ito and Emi vs Hamada matches, three tag teams battle for the intellectual property of the Machine Gunz name, and Tamura defends her belts against "future ace" Haruka Matsuo. Also previously mentioned is the OZ Academy/Osaka Pro mixed tag team tournament, taking place over afternoon and evening shows at Shinjuku FACE.
A more obscure show I ran across running on Monday is a charity event in Wakayama Prefectural Gymnasium, titled "Profession Wrestling vs Variety Show vs Song". There is puro (joshi and guys), along with singers and other entertainment. I don't know the cause, but there are three joshi matches. Sachie Abe and Arisa Nakajima team against Dump Matsumoto and Sasori. Is Arisa old enough to be assaulted by Dump's weapons? We also have Keito and KAORU teaming up against Jaguar Yokota and Ariya, and a singles match with Aska Ohki vs KAZUKI. Ohki is taking Kaori Yoneyama's place, presumably because Yoneyama will be busy playing the role of a Fake Tanny Mouse at the NEO show.
WAVE is running Shin-Kiba 1st Ring on Tuesday. Hopefully the lowered ticket prices get more butts in the seats. I'm already laughing at how funny Lingerie Muto vs Bullfight Sora will be. The main event is Toshie Uematsu vs Yumi Ohka. If Yumi's gonna win anything in this Road to Resurrection series, it will be this one because she ain't beating Azumi Hyuga on Sunday the 23rd.
Wednesday the 19th has MAKEHEN #10 at Shin-Kiba. There will be a mixed tag match with Tomohiko Hashimoto and the Shirai sisters (Mio & Io) teaming against KAZMA, Yuu Yamagata, and Arisa Nakajima.
SUN will have a pair of shows on Saturday and Sunday (the 22nd/23rd). Saturday features Kana's return match against Nanae Takahashi, the "debut" of ZEST.CO, who will team with Toshie Uematsu against Natsuki*Taiyo and Fuuka, and a Hikaru vs Aja Kong main event. ZEST.CO is billed as THE*ZEST's younger sister. Maybe Sugi has a new mask & costume, this time in drag, or maybe someone else we know will be under the mask. SUN is running a one-day tag tourney on Sunday for the Passion Cup. There are six teams, so two lucky teams get byes. I'm going to predict a Aja/ZEST.CO versus Nanae/Natsuki final.
Ibuki #17 will be at Shin-Kiba on Sunday. Highlights are Tomoka Nakagawa getting a serious test in a singles match against the teacher, Mariko Yoshida, and Kyoko Kimura teaming with Cherry against Shu Shibutani and Aoi Kizuki in the main event.
WAVE will venture away from Tokyo and will be at the New Delfin Arean in Osaka on Sunday. The full card isn't up yet, but so far we have Yumi Ohka vs Azumi Hyuga, Toshie and Ran against LLPW champs President Eiger and Sayuri Okino, and an old ladies match featuring Devil Masami, KAORU, and the soon-to-be retired Michiko Ohmukai facing Dynamite Kansai, GAMI, and Command Bolshoi. Speaking of old ladies, IWA Japan will have a random joshi match featuring Jumbo Hori and Sachie Abe against Dump & Sasori.
NEO "BEAT UP 2007" September 17, 2007 (Samurai! TV)
Tokyo Korakuen Hall
1. Aya Yuki/Atsuko Emoto vs Mariko Yoshida/Hiroyo Matsumoto
2. Etsuko Mita/Miki Ishii/Makoto vs Nagisa Nozaki/Aoi Kizuki/Hikari Manami
3. Misae Genki vs Kaoru Ito
4.
3 Way Tag Match:
NEO Machine Gunz vs Kuangtung (Guangdong) Machine Gunz vs Sichuan Machine Gunz (The winner of the match wins the rights to the intellectual property of the NEO Machine Gunz name)
5. Sakura Emi vs Ayako Hamada
6.
NEO/NWA Pacific Championships:
Yoshiko Tamura (c) vs Haruka Matsuo
OZ Academy "OZ MYSTERIOUS DANCE" September 17, 2007 (GAORA TV)
Shinjuku FACE
Mixed Tag Team Tournament (with Osaka Pro)
1.
Quarterfinal:
??? (probably Dynamite Kansai)/Takoykida vs AKINO/Tigers Mask
2.
Quarterfinal:
Mayumi Ozaki/Condor vs Carlos Amano/Billy Ken Kid
3.
Quarterfinal:
Bolshoi Kid/Kuishinbo Kamen vs Aja Kong/Miracle Man
4.
Quarterfinal:
Chikayo Nagashima/Asian Cougar vs Sonoko Kato/Atsushi Kotoge
5.
Losers' Tag:
Tag match between the 4 losing women with teams drawn by lots.
OSAKA PRO September 17, 2007 (GAORA TV)
Shinjuku FACE
Mixed Tag Team Tournament (with OZ Academy)
1. Semifinal
2. Semifinal
3. Final
(Probably other matches involving Osaka Pro workers)
"Professional Wrestling vs Variety Show vs Song" September 17, 2007
Wakayama Prefectural Gymnasium
Charity Show
1. Sachie Abe/Arisa Nakajima vs Dump Matsumoto/Sasori
2. Keito/KAORU vs Jaguar Yokota/Ariya
3. Aska Ohki vs KAZUKI
(Card also has men's matches, singers, and other entertainment)
WAVE September 18, 2007
Shin-Kiba 1st Ring
1.
Opening Wave (3-Way Match):
Gami vs Ran Yu-Yu vs Kyoko Kimura
2.
Lucha Wave:
KAORU/Shu Shibutani vs AKINO/Tojuki Leon
3.
Comical Wave:
Lingerie Muto vs Bullfight Sora
4.
Road to Resurrection:
Toshie Uematsu vs Yumi Ohka
MAKEHEN 10 September 19, 2007
Shin-kiba 1st Ring
5. Tomohiko Hashimoto, Mio Shirai & Io Shirai vs. KAZMA, Yuu Yamagata & Arisa Nakajima
SUN "COLORS ~saFIRE!!!~" Septmeber 22, 2007
Shinjuku FACE
1. Kana Return Match: Kana vs Nanae Takahashi
2. Bullfight Sora vs Shu Shibutani
3. Natsuki*Taiyo/Fuuka vs Toshie Uematsu/ZEST.CO
4.
SUN vs JWP:
Nanae Takahashi/Saki Maemura vs Azumi Hyuga/Tojuki Leon
5. Hikaru vs Aja Kong
Ibuki #17 September 23, 2007
Shin-Kiba 1st Ring
1. Aska Ohki vs Mio Shirai
2. Emi Sakura/Yuko Motohashi vs Hiroyo Matsumoto/Misaki Ohata
3. Mariko Yoshida vs Tomoka Nakagawa
4. Atsuko Emoto vs NAO
5. Kyoko Kimura/Cherry vs Shu Shibutani/Aoi Kizuki
SUN "COLORS ~AQUA SPECIAL~" September 23, 2007
Chiba Kimitsu Aquamarine Studio
Passion Cup '07 Tag Tournament
1. Fuuka/Saki Maemura vs Kayoko Haruyama/Arisa Nakajima
2. Hikaru/Atsuko Emoto vs Aja Kong/ZEST.CO
3. Nanae Takahashi/Natsuki*Taiyo vs Winner of #1
4. Kana/Shu Shibutani vs Winner of #2
5. Winner of #3 vs Winner of #4
WAVE "Osaka Rhapsody" September 23, 2007
Osaka Delfin Arena
1. Road to Resurrection: Yumi Ohka vs Azumi Hyuga
2. Toshie Uematsu/Ran Yu-Yu vs Eiger/Sayuri Okino
3. Devil Masami/KAORU/Michiko Ohmukai vs Dynamite Kansai/GAMI/Command Bolshoi
(Two other matches TBA-order of matches unknown)
IWA JAPAN September 23, 2007
Shinjuku FACE
Sachie Abe/Jumbo Hori vs Dump Matsumoto/Sasori