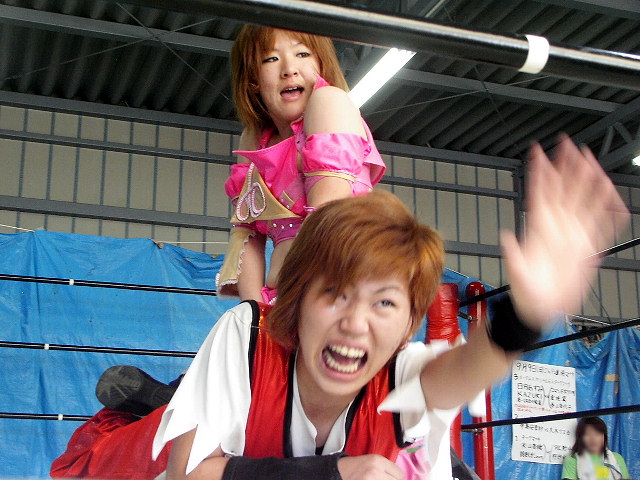 JWP had a dojo show on the 9th. The pictured rookies, Arisa Nakajima and Aska Ohki, went to a 15 minute time-limit draw. I'm not sure if this means anything in the big picture or if this is just an opportunity for them to have a longer singles match without someone to carry them. Command Bolshoi won the main event for her team with a "Chestnut Strike". I didn't know joshi wrestlers had chestnuts.
Also on the 9th, Kyoko Kimura and Bullfight Sora were in a mixed tag match at a Big Japan show. Kimura got the pinfall, using a diving senton.
Tuesday the 11th featured a WAVE show. Yumi Ohka lost again in her "Resurrection" series against big names, dropping this match to SUN ace Nanae Takahashi. Toshie Uematsu and Ran Yu-Yu won again, this time over GAMI and Bullfight. Toshie then challenged Yumi and that is next week's main event. After a good crowd for the debut, WAVE has drawn only 55 and 86 fans, respectively, for the last two shows. GAMI has responded with lower ticket prices and deals for locals who live near Shin-Kiba and for students.
On Saturday the 15th, there were two SUN offer matches at ZERO1-MAX's show in Akagi City. Saki Maemura is temporarily off of jobber duty, beating Bullfight Sora, who seemingly lost in every single match held this week. I think Saki will pick up a few more wins until her AWA title shot against Jamie D. Then she'll get killed and things will return to normal. Nanae Takahashi teamed with S-Ovation youngster Hiroyo Matsumoto and they beat Shu Shibutani and Natsuki*Taiyo.
JWP September 9, 2007
JWP Exercise Hall
1. Kaori Yoneyama/Tojuki Leon defeated Keito/Sachie Abe
(9:21)
when Leon pinned Abe with a Side Cradle.
2. Arisa Nakajima vs Aska Ohki
(15:00)
went to a time-limit draw.
3. Command Bolshoi/Tsubasa Kuragaki/Kayoko Haruyama defeated Azumi Hyuga/KAZUKI/Loser of Match #1 (Sachie Abe)
(13:03)
when Bolshoi used a Chestnut Strike on KAZUKI.
BIG JAPAN "KATSURA SPECIAL 10" September 9, 2007 (Samurai! TV)
Koshigaya Katsura Studio
450 Fans
3.
Mixed Tag Match:
Abdullah Kobayashi & Kyoko Kimura beat Shadow WX & Bullfight Sora
(12:57)
after a Diving Senton by Kimura against Sora.
WAVE "RIDE ON THE WAVE" September 11, 2007
Shin-Kiba 1st Ring
86 Fans
1.
Opening Wave:
KAORU defeated Kyoko Kimura
(19:07)
with a Moonsault Press.
2.
Lucha Wave:
AKINO defeated Shu Shibutani
(16:38)
with the noki-A Backbreaker.
3.
Comical Wave:
Toshie Uematsu/Ran Yu-Yu defeated GAMI/Bullfight Sora
(14:41)
when Uematsu beat Sora by pushing her over GAMI (or something like that).
4.
Road to Resurrection:
Nanae Takahashi defeated Yumi Ohka
(21:24)
with a Backdrop.
ZERO1-MAX "BRAND-NEW SENSATION" September 15, 2007
Akagi City Movement Nature Park Gymnasium
2. SUN Offer Match: Saki Maemura defeated Bullfight Sora
(14:24)
with a Horizontal Cradle.
4. SUN Offer Match: Nanae Takahashi/Hiroyo Matsumoto defeated Shu Shibutani/Natsuki*Taiyo
(21:20)
when Takahashi used a Backdrop Suplex on shibutani.