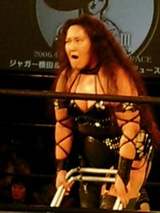 The major action for the rest of this week will consist of two special shows, featuring the two pictured women at very different points in their careers.
On the afternoon of Sunday the 30th, Fuuka will be producing her 1st Fuuka Matsuri (or festival), which is supposed to be a multimedia event featuring puroresu, martial arts, and singing. Highlights of her show at Shin-Kiba 1st Ring include a martial arts exhibition with the "Karate Idol" Yuka Kobayashi, the debut of the masked "Fuuka Kid", who is Fuuka's kayfabe little sister (but is suspected to actually be JWP's Kaori Yoneyama), and the main event, with Fuuka, AKINO, Shu Shibutani, and Nanae Takahashi in a unique tag team match where the teams switch every five minutes.
Later that night, Chigusa Nagayo is producing "MARVELOUS NIGHT MIRACLE GAME", in honor of Devil Masami's 30th year as a professional wrestler. The card features mostly people from Devil's past in AJW, JWP, and GAEA, but kind of resembles a GAEA card if that promotion were still running. The opener features JWP's Azumi Hyuga and Command Bolshoi, then there's a mixed tag match with KAORU and Ayako Hamada. The third match is a Sendai Girls offer match with Tyrannosaurus Okuda and Mizhaaya battling Sendai Sachiko and DASH CHISAKO. I guess you can look at the Sendai Girls as kind of being Devil & Chigusa's joshi grandkids. Then the GAEA girls show up; the twist is that most of the traditional teams are split up, so it's Meiko & Toshie & Chikayo against Sonoko & Ran & Carlos. The theme would be better with Sugar Sato in the match, but I guess her appearance at the Plum Mariko memorial show really was a one-off. The main event is lots of old ladies from the glory days of Zenjo & JWP, as Devil, Dynamite, & Manami go up against Aja Kong, Yumiko Hotta, and Kaoru Ito. I'm surprised that there's no Mayumi Ozaki on the card, but I think she'll figure in somehow. Also no battle royale to get in lots of oldtimers and secondary figures like they had at Jaguar's special earlier this year.
Other stuff going on includes a battle between Cherry and Hiroyo Matsumoto at a UNION show on Wednesday, a typical SUN offer match at Thursday's ZERO1-MAX event, Kyoko Kimura battling a guy in a "Hard Man! vs. Hard Woman!" match for WMF on Friday, a NEO dojo show with "secret" matches on Sunday, and WAVE's next offering, also on Sunday. We know that Yuki Miyazaki won't be wrestling at that dojo show; she suffered a minor injury recently and is taking this show off and hopes to be ready for NEO's next show. The highlights of the WAVE show are Mariko Yoshida being wasted in the "Comical WAVE" match against Bullfight Sora, and Yumi Ohka's Road to Resurrection being downgraded to rookies, as her opponent in the main event is Hiroyo Matsumoto. Bullfight can win her match if she can make Mariko laugh. FFS, put GAMI in the stupid comedy match.
UNION September 26, 2007
Shin-Kiba 1st Ring
3. Cherry vs Hiroyo Matsumoto
ZERO1-MAX "BRAND-NEW SENSATION WORLD 1JR.2007" September 28, 2007
Fukushima Aizu Apio Space
1. SUN Offer Match:
Nanae Takahashi/Hikaru vs Saki Maemura/Natsuki*Taiyo
WMF September 29, 2007
Shin-Kiba 1st Ring
4.
Hard Man! vs. Hard Woman!:
Daisaku Shimoda vs Kyoko Kimura
NEO September 30, 2007
NEO Yokohama Exercise Hall
"Secret matches"
WAVE "RIDE THE WAVE" September 30, 2007
Shin-Kiba 1st Ring
1.
Opening WAVE (Punishment Rules):
GAMI/Daisuke Ikeda vs Kyoko Kimura/Manabu Hara
2.
Road to ACE!?~Comical WAVE:
Mariko Yoshida vs Bullfight Sora
3.
Diva WAVE:
Michiko Ohmukai vs Francoise*
4. Shu Shibutani/Misaki Ohata vs Cherry/Arisa Nakajima
5.
Road to Resurrection:
Yumi Ohka vs Hiroyo Matsumoto
FUUKA MATSURI 1 "Fuuka's Big Adventure" September 30, 2007
Shin-Kiba 1st Ring
1.
First Impression-Kana Return Road:
Kana vs Atsuko Emoto
2.
New Generation Battle:
Yuri Urai/Mio Shirai vs Arisa Nakajima/Io Shirai
3.
Fuuka Martial Arts Special Colloboration:
Fuuka vs Yuka Kobayashi
4.
Fuuka Kids Presents Fuuka Kidd Debut Match-"Masked Idol":
Fuuka Kidd vs Bolshoi Kid
5.
Main the Fuuka:
Fuuka, Shu Shibutani, Nanae Takahashi, AKINO (30 minute time limit tag match-Switch partners every 5 minutes)
MARVELOUS NIGHT MIRACLE GAME September 30, 2007
Nagayo Produce
Devil Masami 30th Anniversary
Tokyo Differ Ariake
1.
JWP Offer Match:
Azumi Hyuga vs Bolshoi Kid
2.
Mixed Tag Match:
KAORU/LTP vs Ayako Hamada/El Blazer
3.
Sendai Girls Offer Match:
Tyrannosaurus Okuda/Mizhaaya vs DASH CHISAKO/Sendai Sachiko
4.
GAEA Reunion Match:
Meiko Satomura/Toshie Uematsu/Chikayo Nagashima vs Sonoko Kato/Ran Yu-Yu/Carlos Amano
5. Devil Masami/Dynamite Kansai/Manami Toyota vs Aja Kong/Yumiko Hotta/Kaoru Ito