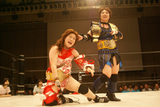 A couple of updates regarding joshi shows this weekend. The NEO blog is reporting that Yuki Miyazaki (from the NEO Machine Gunz) was attacked while jogging by two mystery assailants and may not be able to wrestle. It smells like an angle to me. I earlier speculated that the Chinese Machine Gunz would probably be Ice Ribbon girls and/or Toshie Uematsu. Well, seeing as how this match seems to be more than just silly comedy, and the fact that Ice Ribbon also has a show on the 8th, with Toshie working there, I have a new theory on the identity of the Chinese Machine Gunz.
Sendai finally released the card for their Saturday show, with Senjo challenging Ito Dojo. We've got a main event of Meiko Satomura and Akari Okuda versus the "Double Ayakos" (Hamada and Sato). Chisako Kanari will be taking a footstomp from Kaoru Ito, while her sister Sachiko Sendai will be selling her new stuff with her new name and taking on fellow teenage Hanako Kobayashi.
I noticed that Aki Kanbayashi (the former Miss Mongol) and Tomoko Morii aren't making the trip to Sendai. My theory is that they are the "Chinese Machine Gunz" and they will be furthering the NEO/Ito feud.
Oh, and Frank Pozen has reported that Ice Ribbon has hired 4 idol girls. Hmmmm........
SENDAI GIRLS September 8, 2007
Zepp Sendai
1. Yurie Kaneko vs Mai Ichii
2. Sachiko Kanari vs Hanako Kobayashi
3. Ayane Mizumura vs Midori
4. Chisako Kanari vs Kaoru Ito
5. Akari Okuda & Meiko Satomura vs Ayako Sato & Ayako Hamada