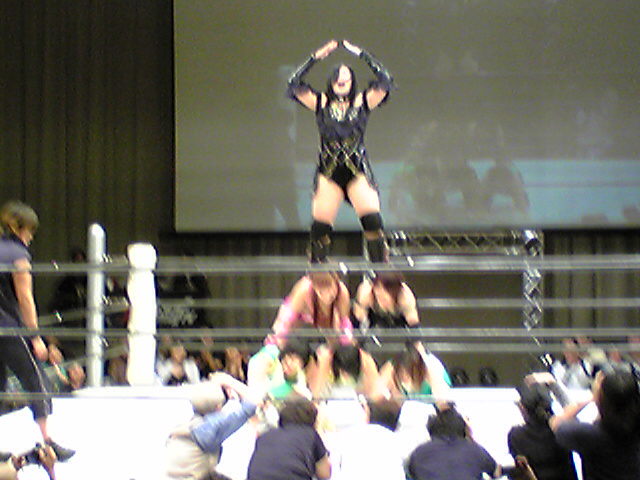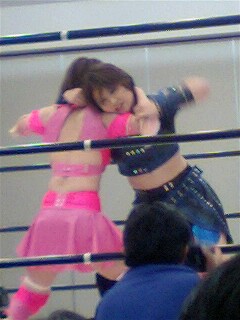 There were fewer shows this week than normal. Toshie Uematsu even found time to take a short vacation with her girlfriends.
With WAVE off this week, the work-week action was pretty much limited to CHICK FIGHTS SUN offer matches at ZERO-ONE MAX shows. The winners were Nanae, Aja, Nanae; the losers were Natsuki, Saki, Natsuki. Oh, and the AWA is threatening to strip Saki's title because of the thing in Hawaii where she had to clean the john after losing to Tracy Taylor. Oy vey! SUN does everything either so right or so so wrong.
Friday night saw the JWP crew at Itabashi Green Hall. Highlights included Arisa Nakajima losing to NEO's Yoshiko Tamura and the team of Kuragaki, Haruyama, and Yoneyama beating Hyuga, Toyota, and Keito.
MUGA World is a men's indy, run by Fujinami. Recently, his protege Osamu Nishimura quit, took a good youngster with him, joined All-Japan, and is publicly comparing Fujinami to Kim Jong-Il and Fidel Castro. Well, they needed some talent and Gran Hamada often works this promotion, so darling daughter The Ayako came to help, along with The Other Ayako (Sato). Hamada won, of course. They claimed 1600 fans, but I saw photos and 160 is more likely.
The biggest joshi show of the week was today, as NEO ran Korakuen Hall for the "STAND OUT 2007" event. First, it was announced that Kyoko Inoue gave birth to a baby boy on Friday. Mother and baby are said to be find and Kyoko will soon have the operation to remove the fibrous uterine growth that complicated the pregnancy. She wants to return to the ring next spring.
At the show, Youth Green beat the "It Was Youth" team. Toshie did the honors over Miki Ishii, the oldest Ice Ribbon girl. She's actually the mom of one of the girls but decided she wanted to play as well. Haruka Matsuo was successful over Sakura Emi in her first title defense; the crowd was said to be totally pro-Emi. The main event saw Tamura and Misae Genki beat Ayako Hamada and Kaoru Ito to bring the NEO Tag belts home, as Genki used the G-Driver on Ito.
ZERO-ONE MAX "BELIEVE YOUR WAY" October 30, 2007
Biki Messe Shimane
800 Fans
3.
SUN Three Way Offer Match:
Nanae Takahashi defeated Saki Maemura & Natsuki*Taiyo
(11:35)
with a Backdrop on Taiyo.
ZERO-ONE MAX "BELIEVE YOUR WAY" November 1, 2007
Kumamoto Hungnam Hall
1400 Fans
4.
SUN Offer Match:
Aja Kong defeated Saki Maemura
(12:44)
with a Diving Elbow Drop.
ZERO-ONE MAX "BELIEVE YOUR WAY" November 2, 2007
Miyakonojo City Gym
1600 Fans
3.
SUN Offer Match:
Nanae Takahashi defeated Natsuki*Taiyo
(12:30)
with a Backdrop Suplex.
JWP "LINE OF HEAT" November 2, 2007
Itabashi Green Hall
1. KAZUKI defeated Misaki Ohata
(12:20)
with the K-Crusher.
2. Tojuki Leon defeated Sachie Abe
(12:35)
.
3. Yoshiko Tamura defeated Arisa Nakajima
(15:21)
with the Patriot Buster.
4. Toshie Uematsu/Ran Yu-Yu defeated Command Bolshoi/Asuka Ohki
(15:28)
when Uematsu used a Diving Body Press on Ohki.
5. Tsubasa Kuragaki/Kayoko Haruyama/Kaori Yoneyama defeated Azumi Hyuga/Keito/Manami Toyota
(17:57)
when Yoneyama used the U.S.-Zou on Keito.
MUGA WORLD November 3, 2007
Kasukabe City Gym
1600 Fans (LOL)
2. Ayako Hamada defeated Ayako Sato
(12:31)
with a Liger Bomb.
NEO "STAND OUT 2007" November 4, 2007
Korakuen Hall
974 Fans
1. Sonoko Kato defeated Aya Yuki
(13:26)
with a Dragon Suplex Hold.
2. Michiko Ohmukai/Lingerie Muto defeated Etsuko Mita/Makoto
(10:34)
when Muto used a Figure-4 Leglock on Makoto.
3.
Youth Green versus It Was Youth:
Toshie Uematsu/Aoi Kizuki/Nagisa Nozaki defeated Manami Toyota/Cherry/Miki Ishii
(13:12)
when Uematsu used a Northern Lights Suplex Hold on Ishii.
4.
Mixed Tag Match:
Tanny Mouse/Yuki Miyazaki defeated Chou-un Shiryu/Dick Togo
(16:55)
when Miyazaki defeated Shiryu with a Cradle.
5.
NEO/NWA Pacific Championship:
Haruka Matsuo (c) defeated Sakura Emi
(13:48)
with a Modified Crucifix Hold. Matsuo succeeds in the 1st defense.
6.
NEO Tag Team Championship:
Yoshiko Tamura/Misae Genki defeated Kaoru Ito/Ayako Hamada (c)
(22:08)
when Genki used the G-Driver on Ito. Hamada & Ito fail in the 2nd defense and Tamura & Genki become the 6th Champions.