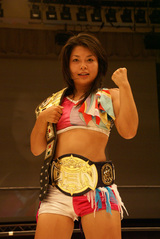 The joshi schedule seems less crowded this week, although I'm having a harder time finding out about some of the more obscure offerings without access to the Lady's Ring mobile site.
Here's what I know: The women of CHICK FIGHTS SUN are on tour with ZERO1-MAX again, and they will appear at 3 shows in matches to be announced later(presumably different permutations of Nanae/Hikaru/Saki/Natsuki).
JWP is at Itabashi Green Hall on Friday night. Arisa Nakajima is meeting a lot of big names these days; it's Yoshiko Tamura. Have fun eating an elbow! The main event sees Manami Toyota looking for redemption after her recent tag title match loss to Tsubasa Kuragaki. Toyota teams with Azumi Hyuga and Keito in a main event trios match against Kuragaki, Kayoko Haruyama, and Kaori Yoneyama.
The biggest joshi show of the week is NEO's "STAND OUT" on Sunday 11/4 at Korakuen Hall. We have several interesting matches. Toshie Uematsu is now the "Senior Adviser" to Youth Green. She teams with youngsters Nagisa Nozaki and Aoi Kizuki to challenge Manami Toyota, Cherry, and Miki Ishii. Ice Ribbon girl Minami Hikari is sort of the junior wannabe member of Youth Green and her job is to help distribute green paper to all the fans to turn Korakuen Hall into a sea of green. It's nice they are trying so hard to push these girls. Hopefully Toshie can teach them some stuff. Maybe she'll wear her old green GAEA swimsuit. I wonder if Toshie is going to be a babyface in NEO now or if she's going to be a bad influence on Aoi and Nagisa?
NEO appears to be blowing off the NEO Machine Gunz versus various "Chinese" wrestlers, as Tanny and Yuki battle Chou-un Shiryu and Dick Togo. I didn't realize Dick was Chinese ;) It sounds like the next bit of silliness will be fake Indian wrestlers. Also, both NEO championships are on the line. Yoshiko Tamura and Misae Genki will try to reclaim the titles from outsiders Ayako Hamada and Kaoru Ito. Haruka Matsuo's first defense of the NEO/NWA Pacific belts is against Sakura Emi. Emi will be madly over as a babyface, so I hope NEO's plan is to turn Haruka into a bitchy conceited heel, because she's not going to be the fan favorite.
Also on Sunday is a K-DOJO event in Chiba.
ZERO-ONE MAX October 30, 2007
Biki Messe Shimane
2.
SUN Offer Match
ZERO-ONE MAX November 1, 2007
Kumamoto Hungham Hall
2.
SUN Offer Match
ZERO-ONE MAX November 2, 2007
Miyakonojo City Gym
2.
SUN Offer Match
JWP "LINE OF HEAT" November 2, 2007
Itabashi Green Hall
1. KAZUKI vs Misaki Ohata
2. Sachie Abe vs Tojuki Leon
3. Arisa Nakajima vs Yoshiko Tamura
4. Command Bolshoi/Asuka Ohki vs Toshie Uematsu/Ran Yu-Yu
5. Azumi Hyuga/Keito/Manami Toyota vs Tsubasa Kuragaki/Kayoko Haruyama/Kaori Yoneyama
NEO "STAND OUT 2007" November 4, 2007
Korakuen Hall
1. Aya Yuki vs Sonoko Kato
2. Etsuko Mita/Makoto vs Michikio Ohmukai/Lingerie Muto
3. Manami Toyota/Cherry/Miki Ishii vs Toshie Uematsu/Aoi Kizuki/Nagisa Nozaki
4.
Mixed Tag Match:
Tanny Mouse/Yuki Miyazaki vs Chou-un Shiryu/Dick Togo
5.
NEO Tag Team Championship:
Kaoru Ito/Ayako Hamada (c) vs Yoshiko Tamura/Misae Genki
6.
NEO/NWA Pacific Championship:
Haruka Matsuo (c) vs Sakura Emi
K-DOJO November 4, 2007
Chiba International Budo University #3 Fieldhouse


TBA