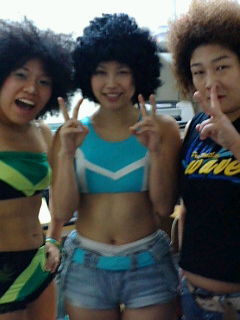 This week in joshi puroresu features a debut, a return of a young star from injury, and the retirement of one of the more popular and beautiful women to ever appear in the ring.
WAVE begins their December series on Tuesday the 4th. Ayumi Kurihara has been missing for a few months after breaking her collarbone. Her first appearance will be in a short exhibition match with Michiko Ohmukai. Michiko will also make her final appearance in WAVE, teaming with Bullfight Sora and Yuki Miyazaki against GAMI, Kyoko Kimura, and AKINO. Yumi Ohka was the first person to ~STOP THE UEMATSU~ in WAVE (Toshie had been undefeated in that organization) since WAVE began in August; now she'll resume the Resurrection WAVE and try to avenge an earlier loss to young Hiroyo Matsumoto.
SUN is touring with ZERO-ONE MAX during the week. Highlights include two appearance by Aja Kong. She'll beat Natsuki*Taiyo on Tuesday and Saki Maemura on Friday. Also on Tuesday is a special apperance by the Atrocious Alliance, as Dump Matsumoto and Sasori ask Hikaru and Saki to donate blood to the Japanese Red Cross.
Saturday will have the typical K-DOJO double shot from Chiba Bluefield, but the most interesting action is on Sunday. Itabashi Green Hall will host a NEO show. The theme seems to be youngsters trying to step up, as Nagisa Nozaki battles Manami Toyota, Aya Yuki teams with Hiroyo Matsumoto to battle the tag champs Yoshiko Tamura and Misae Genki in a non-title bout, and Arisa Nakajima gets her wish and faces double champion Haruka Matsuo, again without the belts on the line.
If you want to see title matches, then go to Korakuen Hall, as all 3 of JWP's championships are on the line. First, Mayuka Shinzeki makes her official debut against Arisa. Then Sendai's Tyrannosaurus Okuda makes her first defense of the junior belts (JWP Junior and POP) against Asuka Ohki. It's SUN vs JWP for the tag team championship, as Nanae Takahashi and Natsuki*Taiyo battle holders Tsubasa Kuragaki and Kayoko Haruyama. Finally, the main event is a JWP Openweight Championship match, as little Kaori Yoneyama attempts to take the crown from Azumi Hyuga.
We'll conclude the week with Michiko Ohmukai's retirement show "FINAL EGOIST" at Shinjuku FACE. The show is largely a reunion of ARSION talent. Several retired ARSION workers, including Sakie Hasegawa (who worked for ARSION but didn't wrestle there), Rie Tamada, Yumi Fukawa, and Ryo Miyuki will appear in a "talk show". The main event is a 5 on 5 tag match, featuring people from all portions of Michiko's career. Michiko (with "elegance and grace") teams up with AKINO, Tojuki Leon, Bullfight Sora, and Ayumi Kurihara to take on Aja Kong, Mariko Yoshida, GAMI, Ayako Hamada, and Ai Fujita (with "Emiko Kado"). Ai is the retired ARSION wrestler who had a baby a few months ago and is making a special one-time only return. Emiko Kado was Ai's classmate in ARSION; Kado was the rookie who tragically died after a match only a couple of months into her career. Often people put over younger workers in their retirement match and Kurihara would be the logical choice, but she's on Ohmukai's team. I think the idea here is to pay respects to Emiko and that Fujita will end up beating Michiko (so Emiko wins in spirit, as she never won a match when she was alive).
WAVE December 4, 2007
Shin-Kiba 1st Ring
1.
Petite Resurrection WAVE (3 Minute Time Limit Exhibition Match):
Michiko Ohmukai vs Ayumi Kurihara
2.
Challenge WAVE:
Ran Yu-Yu vs Asuka Ohki
3.
Comical WAVE~Final Egoist@WAVE~:
Michiko Ohmukai, Bullfight Sora, & Yuki Miyazaki vs GAMI, Kyoko Kimura, & AKINO
4.
Resurrection WAVE:
Yumi Ohka vs Hiroyo Matsumoto
ZERO-ONE MAX December 4, 2007
Toyohashi City Gymnasium
3. Natsuki*Taiyo vs Aja Kong
5. Hikaru & Saki Maemura vs Dump Matsumoto & Sasori
ZERO-ONE MAX December 5, 2007
Komatsu River Sakura Hall
2. Nanae Takahashi & Natsuki*Taiyo vs Hikaru & Saki Maemura
ZERO-ONE MAX December 7, 2007
Minokamo-shi Gymnasium Plaza
2. Nanae Takahashi vs Hikaru vs Natsuki*Taiyo
4. Saki Maemura vs Aja Kong
K-DOJO "CLUB-K 1000" December 8, 2007
Chiba Bluefield
K-DOJO "CLUB-K 3000" December 8, 2007
Chiba BlueField
3. Ryota Chikuzen & Boso Boy Raito vs Teppei Ishizaka & Apple Miyuki
NEO "NEO STORM 07" December 9, 2007
Itabashi Green Hall
1. Tanny Mouse vs Aoi Kizuki
2.
Mysterious Group 3 Way Match:
Etsuko Mita vs Tsubo Genjin vs Konaka=Pale One
3. Yuki Miyazaki vs Sonoko Kato
4. Nagisa Nozaki vs Manami Toyota
5. Yoshiko Tamura & Misae Genki vs Aya Yuki & Hiroyo Matsumoto
6. Haruka Matsuo vs Arisa Nakajima
JWP "JWP CLIMAX 2007" December 9, 2007
Korakuen Hall
1.
Debut Match:
Mayuka Shinzeki vs Arisa Nakajima
2.
JWP Junior/POP Titles:
Tyrannosaurus Okuda (c) vs Asuka Ohki
3.
Tag Team Festival:
WANTED!? (Sachie Abe & KAZUKI) & Mint Showers (Manami Toyota & Etsuko Mita) vs Uematsu Ran (Toshie Uematsu & Ran Yu-Yu) & DA! (Keito & Carlos Amano)
4. Command Bolshoi vs Tojuki Leon
5.
JWP Tag Team Title:
Tsubasa Kuragaki & Kayoko Haruyama (c) vs Nanae Takahashi & Natsuki*Taiyo
6.
JWP Openweight Title:
Azumi Hyuga (c) vs Kaori Yoneyama
FINAL EGOIST December 9, 2007
Michiko Ohmukai Retirement Show
Shinjuku FACE
1. Cherry vs Francoise*
2. Ran Yu-Yu vs Tomoka Nakagawa
3. Toshie Uematsu vs Kyoko Kimura
4.
Talk Show (ARSION OG):
Sakie Hasegawa, Rie Tamada, Yumi Fukawa, Ryo Miyuki
5.
Main Event:
Michiko Ohmukai (with elegance/grace) & AKINO & Tojuki Leon & Bullfight Sora & Ayumi Kurihara vs Aja Kong & Mariko Yoshida & GAMI & Ayako Hamada & Ai Fujita (with Emiko Kado)