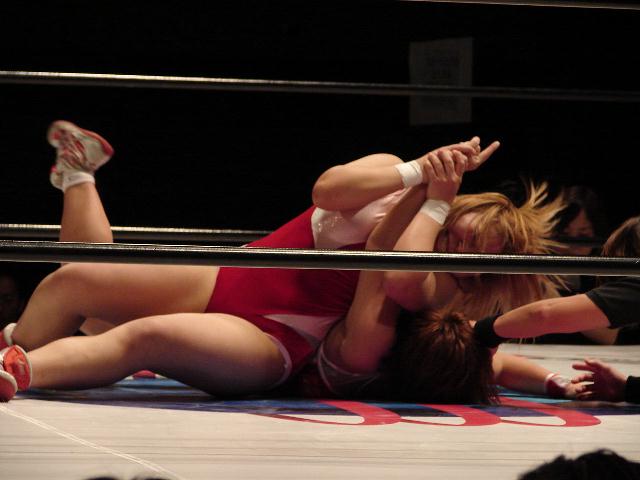 Another week has come and gone. We start with some miscellaneous action from last Monday, the 14th. Natsuki*Taiyo had a successful homecoming to her hometown of Kawasaki, as she used her Taiyo*Bomb to defeat Saki Maemura in a tag match at a ZERO1-MAX show. Also on Monday, the 5th VKF/Wrestle Naniwa show ran in Osaka. Apple Miyuki teamed with Antonio Honda to beat Kikutaro and Milk. I don't know who Milk is. Carlos Amano and Ran Yu-Yu beat new friends Chikayo Nagashima and Sonoko Kato when Ran used an Elbow Smash on Sonoko.
WAVE is now only going to run one weekday show a month. This month's was on Wednesday the 16th. Mika "Megaton" Mizunuma lost her WAVE debut to GAMI and is rumored to possibly be joining WAVE on a regular basis. Shu Shibutani teamed with Ran and used the Satanico on Asuka Ohki, who was partnered with Toshie Uematsu. The main event saw Yumi Ohka and Arisa Nakajima go to a time-limit draw.
Sendai Girls ran a one-day tournament on Friday the 18th. The winner gets a title shot against the OZ champion, who is currently Carlos Amano. The first round went as expected, as Tyrannosaurus Okuda beat rookie Mari Harada and Ryo Mizunami handled DASH Chisako. A surprise in the semis, as Sendai Sachiko used a German Suplex and then an armbar that forced Okuda to tap out and suffer her first loss to one of her classmates. Mizunami defeated Hiren, and then won her 3rd match of the night over Sachiko to claim the trophy and the title shot.
Sunday saw both JWP and NEO running dojo shows, and Apple Miyuki, Yuu Yamagata, and partner Taku Anzawa defeated at K-DOJO by Apple's usual partners. There was also a special MAKEHEN party that featured the first singles match between Mio & Io Shirai.
VKF/WRESTLE NANIWA VOL. 5 January 14, 2008
Osaka Azalea Taisho Hall
3.
Mixed Tag Match:
Antonio Honda & Apple Miyuki defeated Kikutaro & Milk (with candy)
(16:30)
when Miyuki used a Samson Clutch on Milk.
4. Carlos Amano & Ran Yu-Yu defeated Chikayo Nagashima & Sonoko Kato
(16:11)
when Yu-Yu used a Forearm Smash on Kato.
ZERO1-MAX "ACT ZERO-0" January 14, 2008
Lazona Kawasaki Plaza Sol
300 Fans
2.
SUN Offer Match-Natsuki*Taiyo Kawasaki Local Return Match:
Nanae Takahashi & Natsuki*Taiyo defeated Hikaru & Saki Maemura
(15:00)
when Taiyo used the Taiyo*Bomb on Maemura.
WAVE "Weekday WAVE Vol. 1" January 16, 2008
Shin-Kiba 1st Ring
61 Fans
1.
Megaton WAVE:
GAMI defeated Mika Mizunuma
(8:36)
with a Small Package Hold.
2.
Natural WAVE:
Shu Shibutani & Ran Yu-Yu defeated Asuka Ohki & Toshie Uematsu
(15:31)
when Shibutani used the Satanico on Ohki.
3.
Quarrel WAVE:
Kyoko Kimura defeated Kana
(8:52)
with a Sleeper Hold.
4.
Future WAVE:
Yumi Ohka vs Arisa Nakajima
(15:00)
went to a time-limit draw.
SENDAI GIRLS Vol. 16 January 18, 2008
Zepp Sendai
500 Fans
One Day Tournament (for shot at OZ Academy Title)
1.
First Round:
Tyrannosaurus Okuda defeated Mari Harada
(7:28)
with a German Suplex Hold
2.
First Round:
Ryo Mizunami defeated DASH Chisako
(6:54)
by submission with a Triangle Choke Hold.
3.
Semifinal:
Sendai Sachiko defeated Tyrannosaurus Okuda
(8:16)
by submission with a Wakigatame.
4.
Semifinal:
Ryo Mizunami defeated Hiren
(8:11)
with an Uranage.
5.
Final:
Ryo Mizunami defeated Sendai Sachiko
(8:46)
with a Second Rope Guillotine Drop.
JWP January 20, 2008
JWP Exercise Hall
102 Fans
1. Sachie Abe & KAZUKI defeated Azumi Hyuga & Mayuka Niizeki
(13:48)
when Abe used a Diving Body Press on Niizeki.
2. Command Bolshoi defeated Asuka Ohki
(9:10)
3. Tsubasa Kuragaki, Kayoko Haruyama, & Keito defeated Kaori Yoneyama, Tojuki Leon, & Arisa Nakajima
(17:10)
when Haruyama used an Inside Cradle on Nakajima.
NEO January 20, 2008
NEO Yokohama Exercise Hall
K-DOJO January 20, 2008
Chiba BlueField
199 Fans
1. Daigoro Kashiwa, Hiro Tonai & Kazuya Kawasaki defeated Apple Miyuki, Yuu Yamagata &
Taku Anzawa
(9:08)
with an Arm Hold by Tonai on Anzawa.
MAKEHEN January 20, 2008
Shin Kiba 1st Ring

1. Mio Shirai vs Io Shirai
(10:00)
went to a time-limit draw.