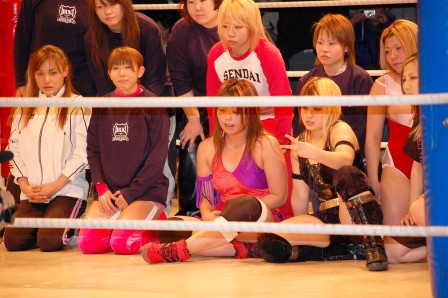 On Friday the 25th, Hikaru beat Saki Maemura at a ZERO1-MAX show. Both Nanae Takahashi and Natsuki*Taiyo were pulled off this show and shows next week. It is claimed both are sick, but Irving and Frank Pozen both think this is a bit fishy. It's still unclear what the future holds for Chick Fights SUN.
Sunday saw four shows and both Toshie Uematsu and Shu Shibutani worked 3 of them. Let's start at Shin-Kiba 1st Ring with Ibuki. Mariko Yoshida didn't give out the card beforehand and there were some unusual matchups. Mio Shirai beat Mika "Megaton" Mizunuma, DASH Chisako teamed with Atsuko Emoto rather than her little sister and they beat Shu and Hanako Kobayashi. Yoshida taught arm-wrestler Yoko Yamada a lesson about puro, and Hiroyo Matsumoto and Io Shirai beat Tomoka Nakagawa and Sendai Sachiko in the main event. Apparently Emoto and Shu got into a scuffle after their match and Hiroyo talked smack about Emoto and Kyoko Kimura. It sounds like some possibilities are being set up for the May anniversary show at Korakuen Hall.
At the same time, JWP had a show at the Tokyo Cinema Club. Notable results included Arisa Nakajima pinning Keito in a tag match for what I believe is her first pinfall over a JWP senior, Tojuki Leon gettting a fall on Kaori Yoneyama in another tag match, and Kayoko Haruyama beating NEO's Etsuko Mita in her 10th anniversary match.
Speaking of NEO, they had the late afternoon slot at the Cinema Club. The quarterfinals of the NEO STAGE 08 tournament had some surprises. After Toshie Uematsu beat Shu Shibutani and Yuki Miyazaki beat Kyoko Kimura, the busy free-lancers ran off to the WAVE show. It turns out Misae Genki had an accident on Friday night and severed a tendon in her hand. She still worked, but jobbed to Hiroyo Matsumoto in just 2 minutes, a result that I doubt was the original plan. The main event saw another big upset as Atsuko Emoto used a Shining Wizard to beat Yoshiko Tamura. So the semifinals will be Toshie-Hiroyo and Yuki-Atsuko.
Back to Shin-Kiba and WAVE. After a time-limit draw between GAMI and Misaki Ohata, Manami Toyota used the Japanese Ocean Cyclone Suplex Hold to snap off Yumi Ohka's super challenge. The main event saw a twist. It was supposed to be GAMI, Kyoko Kimura, and X against Toshie, Ran Yu-Yu, and KAORU. But the mystery partner ended up being KAORU and Shu filled in on the Toshie/Ran team, but Shibutani lost to KAORU.
Finally, Apple Miyuki and Yuu Yamagata's tag team got knocked out of the K-DOJO tag league.
ZERO1-MAX January 25, 2008
Chiba Port Arena Sub Arena
2.
SUN Offer Match:
Hikaru defeated Saki Maemura
(9:50)
with the Lanakila-H.
IBUKI #20 "~ROAD TO HALL 2008~" January 27, 2008 (afternoon)
Shin-Kiba 1st Ring
1. Mio Shirai defeated Mika Mizunuma with the Purple Flash.
2. Mariko Yoshida defeated Yoko Yamada with a Double Arm Facebuster.
3. Atsuko Emoto & DASH Chisako defeated Shu Shibutani & Hanako Kobayashi
(17:04)
when Emoto used the Moo-Cow Clutch on Kobayashi.
4. Cherry defeated Misaki Ohata
(11:03)
with the Spring Night Passion.
5. Hiroyo Matsumoto & Io Shirai defeated Tomoka Nakagawa & Sendai Sachiko
(20:57)
when
Matsumoto used a Backdrop on Nakagawa.
JWP January 27, 2008 (afternoon)
Tokyo Cinema Club
261 Fans
1. Sachie Abe defeated Mayuka Niizeki
(9:21)
with a Backdrop Suplex Hold.
2. Ran Yu-Yu & Toshie Uematsu defeated KAZUKI & Asuka Ohki
(15:09)
when Uematsu used a Diving Body Press on Ohki.
3. Tsubasa Kuragaki & Arisa Nakajima defeated Keito & Sonoko Kato
(15:34)
when Nakajima pinned Keito with a Cradle.
4. Command Bolshoi & Tojuki Leon defeated Azumi Hyuga & Kaori Yoneyama
(16:54)
when Leon pinned Yoneyama with a Back Cradle.
5.
Haruyama 10th Anniversary Match:
Kayoko Haruyama defeated Etsuko Mita
(21:51)
with the Keene Hammer.
NEO January 27, 2008 (evening)
Tokyo Cinema Club
215 Fans
1.
NEO STAGE 08 Tournament Second Round:
Toshie Uematsu defeated Shu Shibutani
(7:13)
with a Roll-up.
2.
NEO STAGE 08 Tournament Second Round:
Yuki Miyazaki defeated Kyoko Kimura
(12:33)
with a Tiger Suplex Hold.
3. Etsuko Mita & Makoto defeated Tanny Mouse & Nagisa Nozaki
(13:09)
when Mita pinned Tanny with a Roll-up.
4. Haruka Matsuo defeated Kana
(11:54)
with a German Suplex Hold.
5. Aya Yuki defeated Miki Ishii
(11:11)
with the Kamikaze.
6.
NEO STAGE 08 Tournament Second Round:
Hiroyo Matsumoto defeated Misae Genki
(2:20)
with a Body Hold.
7.
NEO STAGE 08 Tournament Second Round:
Atsuko Emoto defeated Yoshiko Tamura
(18:29)
with a Shining Wizard.
WAVE "CLIMAX WAVE JAN." January 27, 2008 (night)
Shin-Kiba 1st Ring
124 Fans

1.
Generation Gap WAVE:
GAMI vs Misaki Ohata
(15:00)
went to a time-limit draw.
2.
Discovery WAVE:
AKINO defeated Kitten Kid
(10:43)
with the La Magistral.
3.
Technical WAVE:
Tojuki Leon defeated Tomoka Nakagawa
(10:56)
with a noki-A Backbreaker.
4.
Super Challenge WAVE:
Manami Toyota defeated Yumi Ohka
(19:30)
with a Japanese Ocean Cyclone Suplex Hold.
5.
XX WAVE:
GAMI, KAORU, & Kyoko Kimura defeated Toshie Uematsu, Ran Yu-Yu, & Shu
Shibutani
(13:13)
when KAORU pinned Shibutani.
K-DOJO "CLUB-K 3000" January 27, 2008
Chiba BlueField
65 Fans
4.
KAIENTAI DOJO Tag League 2008 - Round 2:
Makoto Oishi & Shiori Asahi defeated Yuu Yamagata & Apple Miyuki
(11:49)
with a European Clutch Cutback-Cradle by Oishi on Apple.