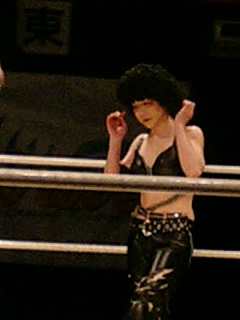 Saki Maemura and Hikaru traded wins on Monday & Tuesday working SUN offer matches for ZERO1-MAX shows. For reasons that aren't clear, only those two seem to be getting booked by FOS right now.
Wednesday saw a Union Pro-Wrestling show and Cherry hitting the Cherry-tom bomb to beat Tomoka Nakagawa in a mixed tag match.
The most interesting show of the slow weeks was WAVE's offering on Saturday. I guess GAMI likes birthday cake, as they celebrated Yuki Miyazaki's 29th birthday. Yuki and Tanny Mouse beat LLPW veterans (redundant) Noriyo Tateno and Harley Saito as Yuki got the pin on Harley. The main event saw GAMI, Kyoko Kimura, and KAORU beat the babe squad (Yumi Ohka, Shu Shibutani, and Kana) as GAMI used a move called the "Adios Amiga" on Kana. KAORU wore an Afro wig.
Sunday saw dojo shows from K-DOJO, JWP, and NEO, along with a MAKEHEN show. At Chiba Bluefield, Yuu Yamagata and Apple Miyuki continue to work together. They won their K-DOJO match teaming with PSYCHO, who scored the win. At the JWP show, Tsubasa Kuragaki beat Sachie Abe in the singles match and the masked team of Command Bolshoi, Tojuki Leon, Electric Mask Woman, and Kumabobo won as Electric Wave beat Kayoko Haruyama. The main thing at MAKEHEN was the debut of new girl Yuka Mitsuya.
ZERO1-MAX January 28, 2008
Ashikaga Citizen Plaza
500 Fans
3.
SUN Offer Match:
Saki Maemura defeated Hikaru
(11:30)
with the Never Give Up!
ZERO1-MAX January 29, 2008
Ushiku Athletic Park Gymnasium
2.
SUN Offer Match:
Hikaru defeated Saki Maemura
(9:11)
with the Lanakila-H.
UNION January 30, 2008
Shin-Kiba 1st Ring
173 Fans
5. Chon-Shiryu & Cherry defeated Munenori Sawa & Tomoka Nakagawa
(11:31)
when Cherry used the Cherry-ton Bomb on Nakagawa.
WAVE February 2, 2008
Shin-Kiba 1st Ring
109 Fans
1.
Challenge WAVE:
Ran Yu-Yu defeated Io Shirai
(8:52)
with a Diving Knee Drop.
2.
Technical WAVE:
AKINO defeated Megumi Yabushita
(13:21)
with a Frankensteiner.
3.
Birthday WAVE:
Tanny Mouse & Yuki Miyazaki defeated Harley Saito & Noriyo Tateno
(11:35)
when Miyazaki "kissed" Saito.
4.
Revenge WAVE
: GAMI, Kyoko Kimura, & KAORU defeated Yumi Ohka, Shu Shibutani, & Kana
(22:50)
when GAMI used the Adios Amiga on Kana.
JWP February 3, 2008
JWP Exercise Hall
1. KAZUKI & Kaori Yoneyama defeated Asuka Ohki & Mayuka Niizeki
(12:03)
when Yoneyama used a Double-Wrist Armsault on Niizeki.
2. Tsubasa Kuragaki defeated Sachie Abe
(10:26)
with an Argentine Backbreaker.
3. Command Bolshoi, Tojuki Leon, Electric Wave Mask Woman, & Kumabobo defeated Azumi Hyuga, Kayoko Haruyama, Keito, & Arisa Nakajima
(20:00)
when Electric Wave Mask Woman used a Clutch Hold on Haruyama.
K-DOJO "CLUB-K 1000", February 3, 2008
Chiba Blue Field
47 Fans
3. PSYCHO, Apple Miyuki & Yuu Yamagata defeated Boso Boy Raito, Kaji Yamato & Skull Reaper A-ji
(10:42)
with the High Fly Bomb by PSYCHO on Yamato.
NEO February 3, 2008
NEO Yokohama Exercise Hall
MAKEHEN 12 February 3, 2008
Shin-Kiba 1st Ring
1. Mio Shirai & Io Shirai vs Yuka Mitsuya & Shu Shibutani