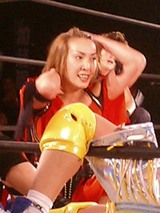 The main fun this week will be seen on Sunday from Shinjuku FACE, as JWP and OZ Academy will be running a double-shot, with JWP starting their 2008 league for a title shot and Mayumi Ozaki fighting to keep control of her organization.
Before that, we have an all-woman match in K-DOJO, quite a novelty for them, as Apple Miyuki and Yuu Yamagata team up again on Thursday to battle busy free-lancers Toshie Uematsu and Ran Yu-Yu. Saki Maemura and Hikaru will work some typical SUN offer match stuff on Saturday and Sunday. Saturday's effort is a mixed tag match.
The road to MANIA-X 2008, JWP's Korakuen Hall show in April, starts on Sunday. A 10 woman league, divided into 2 blocks, is starting to determine the next challenger for Azumi Hyuga's JWP Openweight title. Block A will have Kayoko Haruyama, Keito, Tojuki Leon, Ran Yu-Yu, and Sonoko Kato. Block B features Tsubasa Kuragaki, Command Bolshoi, Kaori Yoneyama, Arisa Nakajima, and WAVE's Yumi Ohka. We will have two Block A bouts and one block B bouts on Sunday. There will also be a "Three Generation" tag match, as the past, present, and future of JWP will be featured. The team of Dynamite Kansai, Azumi Hyuga, and Mayuka Niizeki takes on Devil Masami, Command Bolshoi, and Arisa Nakajima.
OZ has the evening show at Shinjuku FACE. Devil will face AKINO, while Chikayo Nagashima and Sonoko Kato team up against JWP champs Kuragaki and Haruyama. The main event is a gauntlet match for the "Principalship" of the OZ Academy. Ozaki has declared war on everyone and Carlos & gang have had their fill of Mayumi's childish bullshit. Mayumi will successively face Aja Kong, Dynamite Kansai, and Carlos Amano in singles matches. If Ozaki somehow wins all three matches, the losers are all banished from OZ, but a single loss by Mayumi means that she must resign as head of the academy. Carlos has been paying attention for the past ten years, so the use of weapons and interference by seconds is forbidden. They better get a special ref if they want the rules enforced, as Sachiko Ito has probably never DQd anyone in her refereeing career.
K-DOJO "CLUB-K SUPER again" February 7, 2008
Shinjuku FACE
4. Apple Miyuki & Yuu Yamagata vs. Toshie Uematsu & Ran Yu-Yu
ZERO-ONE MAX February 9, 2008
Osaka Prefectural Gym #2
1. Osamu Namiguchi & Hikaru vs Shota Takanishi & Saki Maemura
ZERO-ONE MAX February 10, 2008
Fukuyama Big Rose
2.
SUN Offer Match
JWP "ROAD TO MANIA-X 2008" February 10, 2008 (afternoon)
Shinjuku FACE
1. Tojuki Leon vs Miki Ishii
2. Sachie Abe & KAZUKI vs Toshie Uematsu & Asuka Ohki
3.
Block A:
Keito vs Sonoko Kato
4.
3 Generation Romance Tag Match:
Azumi Hyuga, Dynamite Kansai, & Mayuka Niizeki vs Command Bolshoi, Devil Masami, & Arisa Nakajima
5.
Block A:
Kayoko Haruyama vs Ran Yu-Yu
6.
Block B:
Tsubasa Kuragaki vs Kaori Yoneyama
OZ ACADEMY "OZ-WOMAN ON THE RUN" February 10, 2008 (evening)
Shinjuku FACE
1. Devil Masami vs AKINO
2. Chikayo Nagashima & Sonoko Kato vs Tsubasa Kuragaki & Kayoko Haruyama
3.
OZ Academy Prinicipalship Gauntlet Match
3a. Mayumi Ozaki vs Aja Kong
3b. Mayumi Ozaki vs Dynamite Kansai
3c. Mayumi Ozaki vs Carlos Amano