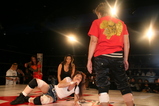 OZ Academy's latest show, on 11/15, was mainly to set up the next series of feuds. After some of the old ladies beat up the kids, we then had Chikayo Nagashima (w/Toshie Uematsu) and Sonoko Kato (w/Tsubasa Kuragaki) back on opposite teams. Nagashima pinned Kato and now they will meet in singles at the next OZ show at Shinjuku FACE on 12/6. I'm wondering if this feud, the highlight of OZ 2007 for me, will start again?
Carlos Amano beat Manami Toyota in a non-title match and naturally demanded a title shot. No date given yet, but I'm expecting this to be part of OZ's year-end show at Korakuen Hall on 12/23. The main event saw AKINO and Ran Yu-Yu retain the tag belts over KAORU & Takako Inoue, with Ran pinning KAORU. On the tag title front, AKINO challenged Aja Kong, and there will be an all-Jungle Jack battle. I'm guessing Aja and Hiroyo Matsumoto will challenge at the year end show.
Of course, KAORU's loss is supposed to mean the end of the Ozaki Army Corps. Mayumi flipped out, of course, "exiled" KAORU, and those two are meeting in singles at the Korakuen Hall show. It's going to probably be a hardcore match and possibly a deathmatch. I don't know the status of Takako or Hiren or Mika Nishio & Police, as far as to whether they will remain loyal to Ozaki or not.
WAVE started a six-man Captain's fall tournament. The rules are silly, as the captain is "secret" and getting pinned does not eliminate a competitor. You keep going until you are lucky enough to pin the right person. Plus the tournament has FIVE teams, so they had a first round today, with a repechage round for the first round losers. Uematsu, Ran, and Ryo Mizunami beat GAMI & the Shirai Sisters, with Miz getting a nice winner over the veteran GAMI. Shu Shibutani, Kana, and Ayumi Kurihara also won in the first round. The repechage saw GAMI and the Shirais beat Yumi Ohka, Moeka Haruhi, & Misaki Ohata. It was stupid, as Ohka pinned both GAMI & Io in the first 4 minutes, but OOPS Mio is the captain. So it would make no sense for Mio to ever tag in. I don't know if she tagged in or not, but eventually GAMI pinned Yumi. So those three teams and the comedy mish-mosh team of Bullfight Sora, KAORU, and Cherry will decide this on 11/25.
Team MAKEHEN is folding. The final show is at Shin-Kiba 1st Ring on 12/13. This means that Basara (aka Tyrannosaurus Okuda) will be a free agent. She's still recovering from her neck & shoulder injuries, originally suffered in 2008 while she was in Sendai Girls and re-injured this year shortly after her comeback, so her participation will only be photos & autographs. I don't think she's going to win 2009's Junior of the Year in joshi puroresu, as it's been a disaster of a year for her. Hopefully 2010 will go better for Basara and the industry as a whole.
WAVE November 12, 2009
Shin-Kiba 1st Ring
115 Fans
1. Captain's Fall 6 Man Tag Tournament Round 1: Toshie Uematsu, Ran Yu-Yu (captain), & Ryo Mizunami defeated GAMI (captain), Mio Shirai, & Io Shirai. Uematsu used a Dragon Suplex on Mio (3:50). GAMI used a German Suplex Hold on Mizunami (6:25). Mizunami used a Running Guillotine on GAMI (19:19).
2. Captain's Fall 6 Man Tag Tournament Round 1: Shu Shibutani, Kana (captain), & Ayumi Kurihara defeated Yumi Ohka, Moeka Haruhi (captain), & Misaki Ohata. Kurihara used a Back Arm Throw on Haruhi (13:42).
3. Comical 3WAY Match: KAORU defeated Bullfight Sora & Cherry (13:22) with an Arm Lock on Sora.
4. Captain's Fall 6 Man Tag Tournament Consolation Match: GAMI, Mio Shirai (captain), & Io Shirai defeated Yumi Ohka (captain), Moeka Haruhi, & Misaki Ohata. Ohka used a Tiger Suplex on GAMI (2:18). Ohka used the Big Boot on Io (3:40). Io used the Rio de Janiero on Haruhi (8:56). GAMI used a Small Package after an Eye Poke on Ohka (11:13).
NEW AJW November 13, 2009
Shizuoka Fuji San Messe
400 Fans
1. GAMI defeated Chisato Kuroki (11:45) with the Eye Poke.
2. Yumiko Hotta defeated Hanako Kobayashi (12:24) with the Tiger Driver.
3. Ran Yu-Yu & Shu Shibutani defeated Command Bolshoi & KAZUKI (14:57) when Yu-Yu used a Rolling Elbow on KAZUKI.
4. Takako Inoue defeated Sachie Abe (11:56) with the Destiny Hammer.
5. Kaoru Ito & Tsubasa Kuragaki defeated Manami Toyota & Yumi Ohka (24:37) when Kuragaki used the Metal Wing on Ohka.
ICE RIBBON November 13, 2009
Warabi City Isami Wrestle Budokan
49 Fans
1. Hamuko Hoshi defeated Chii Tomiya (8:48) with a Diving Body Press.
2. Ribbon Takanashi defeated Daisuke Masaoka (8:59) with the Bacchus.
3. Makoto vs Io Shirai (10:00) went to a time-limit draw.
4. Mio Shirai & Hikaru Shida defeated Nanae Takahashi & Mai Ichii (14:02) when Shida used the Shidaxa on Ichii.
ICE RIBBON November 14, 2009
Warabi City Isami Wrestle Budokan
75 Fans
1. Riho & Chii Tomiya defeated Mai Ichii & Hikari Minami (8:29) when Riho used a Northern Lights Suplex Hold on Minami.
2. Daisuke Masaoka vs Satoshi Kajiwara (10:00) went to a time-limit draw.
3. 3WAY Match: Natsuki*Taiyo defeated Nanae Takahashi & Tsukasa Fujimoto (10:28) with a Moonsault Press on Fujimoto.
4. Hamuko Hoshi & Kazumi Shimouma defeated Makoto & Minori Makiba (17:01) when Shimouma used the Passion of the Woman on Makoto.
K-DOJO "CLUB-K SUPER joke" November 14, 2009
Tokyo Korakuen Hall
691 Fans
1. YOSHIYA, Yuu Yamagata & Ryuichi Sekine defeated Kunio Toshima, Hardcore Kid Kojiro & Kim Nam Seok (9:01) when Sekine used the Combine on Nam Seok.
2. Boso Boy Raito & Kaji Tomato defeated Saburo Inematsu & Bambi (6:59) when Tomato used the Red Eye on Inematsu.
OZ ACADEMY "BELIEVE AGAIN" November 15, 2009
Shinjuku FACE
1. Dynamite Kansai defeated Ayumi Kurihara (7:31) with a Diving Footstomp.
2. Aja Kong defeated Tomoka Nakagawa (8:23) with a Vertical Drop Brainbuster.
3. Mayumi Ozaki defeated Hiren (14:42) with an Armlock.
4. Chikayo Nagashima & Toshie Uematsu defeated Sonoko Kato & Tsubasa Kuragaki (18:25) when Nagashima used a Fisherman's Buster on Kato.
5. Carlos Amano defeated Manami Toyota (4:14) with a Cradle after a Feinted Carlos Ghosn.
6. OZ Academy Tag Team Championship: AKINO & Ran Yu-Yu (c) defeated KAORU & Takako Inoue (20:53) when Yu-Yu used a Forearm Smash on KAORU. AKINO & Yu-Yu are successful in the 2nd defense.