First, another retirment to report. Tuesday's WAVE show featured GAMI & Bullfight Sora beating Aja Kong & Sakura Hirota when the cow pinned Sakura. Then the cow mentioned that she, along with her "friend" Atsuko Emoto, is retiring after the May 30th WAVE show. Bullfight Sora will have a series of five singles matches against GAMI, AKINO, Toshie Uematsu, Kyoko Kimura, and Tomoka Nakagawa. Kimura herself will be taking a hiatus to recover from various injuries after this show and the special Revolucion Amandola show next week, which features Emoto vs Natsuki*Taiyo for the NEO High Speed title and the three members of R.A. against Nanae Takahashi, Taiyo, and Ayumi Kurihara.
NEO's first show since the shocking departure of Kyoko Inoue and the impending retirements of Yoshiko Tamura, Tanny Mouse, and Yuki Miyazaki saw Aya Yuki adopt a new finisher which might signal a push for the only non-injured, non-retiring NEO worker left. Aya used the Death Valley Bomb, presumably learned from now-retired Etsuko MIta, to beat the gigantic gaijin Vanessa "The Mountain" Kraven in the semi-main event. The Sendai Girls duo of Ryo Mizunami and Kagetsu scored a nice win in the main event, beating the Three Count master-and-pupil team of Tamura and Hikaru Shida, with Miz using a guillotine drop on Shida. Tamura then announced her intention to defend both the NEO/NWA Pacific singles titles and the NEO tag titles (held with Ayumi Kurihara) against all comers until her retirement on December 31st, when she plans to still hold all three crowns.
Anniversaries are a bit happier than retirements, and we had some of those this week as well. OZ Academy featured the 15th anniversary of the original GAEA girls, along with Carlos Amano and Ran Yu-Yu from that great JWP class. Before the anniversary girls took the ring, we had Kagetsu defeat rookie Nao Komatsu, Mayumi Ozaki & Takako Inoue over Hiroyo Matsumoto & Tomoka Nakagawa,KAORU over Yumi Ohka, and Aja Kong & AKINO over Dynamite Kansai & Manami Toyota. The KAORU vs Ozaki Army feud will continue, as she wants Takako next. Aja decided to reform some old-school Jungle Jack, as she'll team with Kaoru Ito to challenge Amano & Toyota for the
tag titles in JUne. Nothing like injecting some fresh young fighters into the title mix! Ito could add OZ gold to a resume that includes tag championships in AJW, JWP, and NEO.
The main event saw OZ Academy regulars Amano, Chikayo Nagashima, and Sonoko Kato be defeated by Ran Yu-Yu, Toshie Uematsu, and Meiko Satomura, with Ran pinning Carlos. This led to an immediate challenge for the OZ Openweight title, and this will happen next week in Sapporo at the Big Japan/OZ Academy joint show.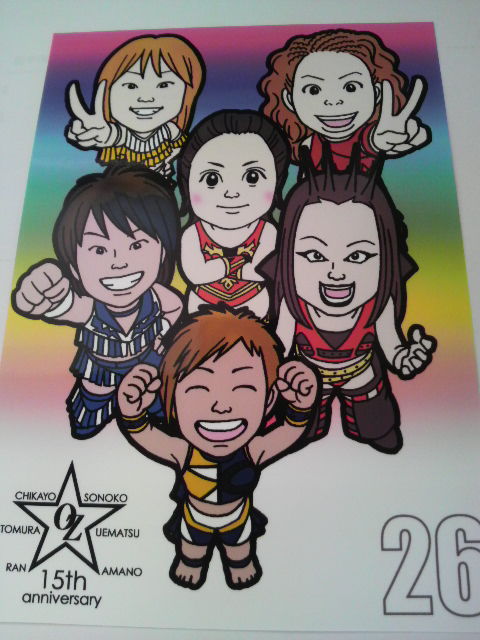 JWP ran a pair of shows as well, with the nightcap being Leon's 10th anniversary. In the matinee, Senri Kuroki got her first singles win over Daijo/WAVE rookie Sawako Shimono, who is the only one to debut from GAMI's try at an Osaka promotion. JWP working on killing the passion, as Command Bolshoi, Kayoko Haruyama, and Kaori Yoneyama defeated Nanae Takahashi, Natsuki*Taiyo, and Kazumi Shimouma, with Bolshoi defeating Shimouma in preps for the Nanae-Bolshoi title match next month. The afternoon main event saw KAZUKI and Toshie Uematsu keep the JWP tag titles, beating Leon and Keito. Sachie Abe continued the jealous jilted lover routine.
The nightcap started with Bullfight Sora's last appearance in JWP, as the cow lost to both Yoneyama and Leon. Shimono got revenge on Kuroki with a pin in a sensei-and-student tag, also involving GAMI and Bolshoi. Here's your 2012 JWP Junior title feud, once every Sendai Girl and S-Ovation girl is too experienced for that belt. Mima Shimoda won a battle royale, won 30 kilos of black pork, and showed off her bitchin' recipe for carnitas! The main saw a series of singles matches against Leon. We had draws with Leon against Yuu Yamagata and Ayumi, then traded pinfalls against Haruyama before finishing with another draw against Yoneyama.
WAVE May 11, 2010
Shin-Kiba 1st Ring
132 Fans
1. Ayumi Kurihara & Misaki Ohata defeated Moeka Haruhi & Ryo Mizunami (13:29) when Kurihara used a Back Arm Throw on Haruhi.
2. Toshie Uematsu defeated Io Shirai (11:05) with the Solarina.
3. GAMI & Bullfight Sora defeated Aja Kong & Sakura Hirota when Sora pinned Hirota.
4. Shu Shibutani & Cherry defeated Yumi Ohka & Asami Kawasaki (17:04) when Shibutani used a Diving Senton on Kawasaki.
ICE RIBBON May 12, 2010
Warabi City Isami Wrestle Budokan
62 Fans
1. Emi Sakura defeated Sayaka Obihiro (7:26) with a Double Arm Suplex.
2. Hamuko Hoshi defeated Chii Tomiya (7:13) with a Diving Body Press.
3. Keita Yano defeated Chou-un Shiryu (8:35) with the Kay Chan Bonn Bar.
4. Hiroyo Matsumoto & Tsukasa Fujimoto defeated Makoto & Hikaru Shida (13:21) when Matsumoto used a Chokeslam on Shida.
ICE RIBBON May 15, 2010
Warabi City Isami Wrestle Budokan
86 Fans
1. Tsukushi defeated Kurumi (4:36).
2. Riho & Chii Tomiya defeated Makoto & Minori Makiba (14:32) when Tomiya used a Huricanrana on Makiba.
3. Hamuko Hoshi defeated Sayaka Obihiro (7:52) with a Diving Body Press.
4. Tsukasa Fujimoto & Hikaru Shida defeated Emi Sakura & Kazumi Shimouma (13:20) when Shida used the Three Count on Shimouma.
NEO May 15, 2010
Itabashi Green Hall
138 Fans
1. Hiroyo Matsumoto defeated Sawako Shimono (9:17) with a Chokeslam.
2. Nanae Takahashi & Natsuki*Taiyo defeated Toshie Uematsu & Sakura Hirota (14:39) when Taiyo pinned Hirota.
3. Tanny Mouse & Yuki Miyazaki defeated Mima Shimoda & Cherry (17:14) when Tanny used a Facebuster into a Birthday Cake on cherry.
4. Aya Yuki defeated Vanessa the Mountain (10:41) with a Death Valley Bomb.
5. Ryo Mizunami & Kagetsu defeated Yoshiko Tamura & Hikaru Shida (17:01) when Mizunami used a Diving Guillotine Drop on Shida.
FURUSATO PRO May 15, 2010
Fukuoka Kurume Rokkadudou Plaza
4. Kyoko Kimura & Mio Shirai defeated Misaki Ohata & Io Shirai.
OZ ACADEMY May 16, 2010
Shinjuku FACE
15th Anniversary (Nagashima/Kato/Amano/Yu-Yu/Uematsu/Satomura)
1. Kagetsu defeated Nao Komatsu (10:11) with a Spear.
2. Mayumi Ozaki & Takako Inoue defeated Hiroyo Matsumoto & Tomoka Nakagawa (14:46) when Ozaki used an Ozakick on Nakagawa.
3. KAORU defeated Yumi Ohka (8:39) with an Ozakick.
4. Aja Kong & AKINO defeated Dynamite Kansai & Manami Toyota (11:03) when Kong used La Magistral on Toyota.
5. 15th Anniversary Special Tag Match: Ran Yu-Yu, Meiko Satomura, & Toshie Uematsu defeated Carlos Amano, Chikayo Nagashima, & Sonoko Kato (19:41) when Ran used a Huricanrana on Amano.
JWP May 16, 2010 (afternoon)
Tokyo Cinema Club
148 Fans
1. Senri Kuroki defeated Sawako Shimono (7:12) with a Cradle Cutback.
2. Sachie Abe defeated Tsukasa Fujimoto (12:13) with La Magistral.
3. Tsubasa Kuragaki defeated Mima Shimoda (15:57) with a Lariat.
4. Kayoko Haruyama, Command Bolshoi, & Kaori Yoneyama defeated Nanae Takahashi, Natsuki*Taiyo, & Kazumi Shimouma (14:18) when Bolshoi used the Pikobatorosu on Shimouma.
5. JWP/Daily Sport Tag Team Championship: KAZUKI & Toshie Uematsu (c) defeated Keito & Leon (16:39) when KAZUKI pinned Leon. KAZUKI & Uematsu are successful in the 2nd defense.
JWP May 16, 2010 (evening)
Tokyo Cinema Club
Leon 10th Anniversary
162 Fans
1. Kaori Yoneyama defeated Bullfight Sora (9:46) with a Rear Cradle.
2. Leon defeated Bullfight Sora (1:28).
3. GAMI & Sawako Shimono defeated Command Bolshoi & Senri Kuroki (16:43) when Shimono pinned Kuroki.
4. Battle Royale: Mima Shimoda defeated Tsubasa Kuragaki (11:52). Others, in order of elimination: Kaori Yoneyama, Senri Kuroki & Sawako Shimono, Command Bolshoi, GAMI, Bullfight Sora, Keito, KAZUKI, Sachie Abe, Cherry.
5. Leon vs Yuu Yamagata (6:00) went to a time-limit draw.
6. Leon vs Ayumi Kurihara (8:00) went to a time-limit draw.
7. Kayoko Haruyama vs Tojuki Leon (10:00) tied by 1 fall to 1. Haruyama defeated Leon (3:50) with the Keene Hammer. Leon defeated Haruyama (9:28) with the Four Character Jackknife Hold.
8. Leon vs Kaori Yoneyama (5:00) went to a time-limit draw.
UNION PRO May 16, 2010
Kitasenju Theater 1010
1. Miyako Matsumoto & GENTARO vs Seiya Morohashi & Cherry
2. Emi Sakura & Masa Takanashi vs Ricky Fuji & Hirosi